Tata to get £4m Welsh Government grant for training skills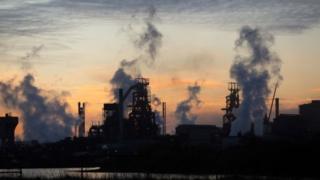 Tata Steel will receive £4m from the Welsh Government for training programmes to "strengthen core skills" and "develop new engineering techniques" across the business.
The aim is to improve efficiency and increase productivity at the company.
The money is on top of a £13m funding offer previously announced to improve technical and management skills, new product development and to increase energy efficiency.
Tata Steel welcomed the announcement.
The Welsh Government said the new funding would lead to improved skills in the areas of leadership and management, customer and supplier excellence, maintenance and operational excellence and talent programmes.
It added it continued to work with Tata on other packages of potential support.
First Minister Carwyn Jones said: "Tata Steel has made a substantial commitment to roll out a wide-ranging programme of ring-fenced training projects across all sites in Wales."
A spokesperson for Tata Steel said: "More than 80% of all our employees in Wales have directly benefitted from training in areas such as health and safety, business and maintenance excellence as well as a host of other areas thanks to Welsh Government funding.
"This allows us to ensure our employees can do more which in turn means they can better support the whole economy of Wales."
Almost 7,000 people are employed by Tata in Wales, including more than 4,000 in Port Talbot - the largest steel works in the UK.
Unions and politicians have called for Tata Steel and Thyssenkrupp to safeguard Welsh jobs when they go ahead with their planned merger.