Codebreakers: The men who crossed the rugby divide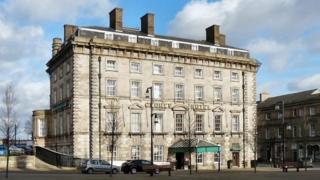 They crossed a line - a line that meant some of Wales' greatest sports stars were never forgiven, even in hometowns.
Since 1895, Welsh rugby players have been turning their back on union to play league in northern England.
Some went for money, others, it is suggested were forced to move because of racial prejudices.
TV programme, The Rugby Codebreakers, explores Wales' relationship with rugby league - a game that could easily have become the country's national sport.
When it emerged in the late 19th Century, there was just one form of the game, run by England's public school elite, who insisted on it being played for love and moral education while remaining strictly amateur.
This was fine for men from affluent backgrounds, but there were many in working class areas of northern England and south Wales losing pay.
The classes were on a collision course and it came to a head on 29 August 1895, when 21 clubs met at The George Hotel, Huddersfield, forming the Northern RFU.
They agreed to allow broken time payments of six shillings, with the move pitting England's establishment elite in the south against the working class north.
Wales was caught in the crossfire, with its decision on who to side with set to shape sport in the country forever.
So, why did it not turn professional with its northern cousins?
"There were very influential men leading the WRU and they wanted to keep it a national game and if they allowed professionalism they would immediately be ex-communicated by the other countries," said historian Gareth Williams.
"It would become a regional game, faced with playing Yorkshire and Lancashire. So the whole nature of the game would lose its authority and status within Wales."
Prof Tony Collins, from Huddersfield University, also said rugby "was a game for all classes" in Wales, meaning it was linked to the English RFU in a way northern clubs were not.
But preserving amateur status made an exodus of working class men inevitable.
This was particularly the case during times of mass unemployment, with 70 internationals and about 900 uncapped players moving north in the 1920s and 30s.
Mr Williams described these as "grim years" with Wales failing to win a Triple Crown between 1911 and 1950.
While union suffered, league heroes were created - such as Jim Sullivan, a boiler maker from Cardiff who went to Wigan in 1921.
His 774 games, 2,317 goals and 4,883 points all remain club records.
While feted up north, these players were banned from having any involvement with union or even entering clubhouses in their hometowns.
Former Welsh union captain coach Clive Rowland said it may have been a deterrent, but he found it "very sad".
"A lot of it went beyond the pale. The most glaring example was George Parsons, a policeman from Pontypool and second row," said journalist Peter Jackson.
"He was selected to play for Wales against France in Paris in 1947 and got on a train at Newport station. After a bit of a delay, he was thrown off on suspicion of talking to a rugby league scout."
There were also stories of league agents being thrown out of hotels and one in Penarth thrown in the sea and rolled in the sand.
However, Carolyn Hitt's documentary also finds evidence rugby in Wales was not classless and of attempts to create "a pure Welsh team".
William O'Neill moved to Wales with his family from Ireland in the early 1900s and was a member of the Cardiff Invincibles side of 1905 with Rhys Gabe and Gwyn Nicholls, winning 11 caps.
However, his grandchildren described how he was made to drop the 'O' from his name and discriminated against before, with "a heavy heart", moving to Warrington rugby league in 1908.
There are others, such as Tiger Bay-born Billy Boston, whose goal was simply to play for Cardiff RFC.
But the call never came and between 1953 and 1968 he became a league great and the record try scorer for both Wigan and Great Britain.
While he said simply the Cardiff selectors "made a mistake", Prof Collins paints a different picture.
"The reality was it was unlikely he was going to play for the national side," he said.
"It was an open secret that Billy Boston may have been a great rugby player, but there was no way he was going to play for Wales.
"There was an undertone of racism that made these players immediately look to go north."
The Welsh union side was more than 100-years-old when the first black player was capped - Mark Brown in 1983.
Before that, black players, mostly from Cardiff, were becoming league legends, while hardly causing a ripple back home.
Splott's Clive Sullivan became the first black person to captain a British professional sports side, leading Great Britain to the league world cup in 1972.
Tiger Bay's Roy Francis was the first black professional coach in any sport - and is considered a "revolutionary" who shaped the modern rugby league tactician.
Mr Collins said: "He predates [union's] Carwyn James with diets, game plans, filming players.
"It is a pity he is not regarded alongside him as they were the two great Welsh coaches of the late 20th Century."
Usually, top Welsh union stars were untouchable for league agents, but it is detailed how Cliff Morgan, who helped beat the All Blacks in 1953, was on the point of signing, when he "he lost his nerve".
And in 1967, Welsh captain David Watkins signed for Salford in a world record £16,000 deal.
Even the gold pairing of Gareth Edwards and Barry John were heavily courted.
"I was 21, I had lots of offers. But I always said 'you chose the wrong time' - I wasn't married, I had no mortgage," said Edwards.
This changed in the 1980s and 1990s, with the miners' strike and unemployment seeing another exodus.
Stars leaving included Paul Moriarty, John Devereux, Scott Gibbs and Scott Quinnell - but the one which created shockwaves was Welsh captain and outside half, Jonathan Davies, in 1989.
The exodus had a devastating impact with Wales finishing bottom of the Five Nations Championship five times between 1989 and 1995.
After that, union went professional and the floodgates closed - with players more likely to go to France than north.
The Rugby Codebreakers is on BBC2 Wales at 19:00 GMT on Sunday 11 March