Cardiff-Chester rail services resume after defect repaired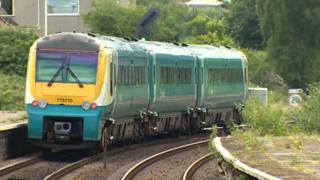 A defect on the railway line between Cardiff and Chester which caused an entire fleet of trains to be taken out of service has been fixed.
A chip was found on an Arriva Trains Wales train wheel on 27 February and further checks found "significant damage" to all 27 long-distance trains.
Services from south Wales to Manchester and north Wales were cancelled or reduced as a result.
The fault has since been found and repaired.
Arriva Trains Wales also serves stations in Herefordshire, Shropshire and Cheshire on the Cardiff to Chester route.
In a statement, Bill Kelly, chief operating officer for Network Rail Wales and Borders and Simon Hughes, Arriva Trains Wales engineering director, said their teams had worked "around the clock since Wednesday" to identify the fault.
The statement read: "Our efforts were hampered by extremely challenging weather conditions that meant the defect was very difficult to locate, however once identified, the defect was repaired within the hour and we are now able to operate trains on the Marches line and have now resumed a normal service.
"We would like to thank our customers for their patience whilst we worked hard to maximise service operations during these very difficult weather conditions."
Network Rail said it was continuing to investigate the cause of the fault which was found on the line at Maindee, Newport.
Cabinet Secretary for Transport, Ken Skates, said test trains were dispatched to check all potential causes of wheel damage along the routes where it may have occurred.
He added: "Whilst the damage may take several months to completely resolve, I have been assured that there is no safety consequence to continuing to operate the trains in the interim."