Bangor Cathedral choir 'snubbed' by Songs of Praise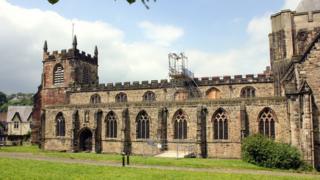 Singers in Bangor Cathedral choir claim they have been "snubbed" after they were not asked to perform on BBC TV programme Songs of Praise.
An episode will be recorded at the cathedral on 5 March to be broadcast over the Easter weekend, which falls between 30 March and 2 April.
Another choir, Cor Glanaethwy, has been asked to perform, angering members of the cathedral choir.
The BBC said the choir had been invited to sing as part of the congregation.
One young singer described the decision as "disrespectful".
In a letter to the cathedral, the child, who asked to remain anonymous, said: "Songs of Praise is a Christian television programme, and cathedral choir is a Christian choir.
"Yet the choir has not been asked to sing in Songs of Praise, which is a snub to the choir."
Bangor Cathedral choir has existed since at least the mid-14th Century, and has around 20 children - boys and girls - singing regularly, as well as adult members.
'Teased by singers'
One child and two parents have written to the cathedral's governing body to complain.
One parent also said that members of the cathedral choir have been teased by singers from Cor Glanaethwy at school over the decision.
The dean of Bangor cathedral, the Very Reverend Kathy Jones, said: "We are delighted that Songs of Praise are going to be recording at Bangor Cathedral and that a number of groups from the community are taking part."
A BBC spokesperson said: "Songs of Praise films in different cathedrals across the UK often working with a number of choirs in a location and on this occasion, we are filming with Ysgol Glanaethwy.
"All the local choirs, including the Bangor Cathedral choir, have been invited to be part of the congregation singing the hymns."