Brexit: 'Free ports' urged to boost Welsh economy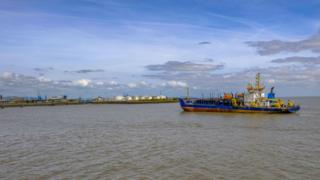 Welsh ports should be granted free port status after the UK leaves the European Union, industry figures have argued.
That would mean goods imported and turned into higher value products inside free ports would not face tax and duties until they left the zone.
It is hoped this would attract more international business into ports and encourage manufacturing.
The Welsh Government said it has "an open mind", while the UK government wants to maximise trade opportunities.
The idea of free ports was floated in evidence to an assembly committee's inquiry into Brexit's impact on ports, and Economy Secretary Ken Skates has said it is worth investigating.
But campaigners need to win the support of HM Revenue and Customs.
The United States has more than 250 free trade zones, employing 420,000 people.
It has been claimed more than half of Britain's major ports - including Port Talbot, Newport and Holyhead - are in poorer areas and the Centre for Policy Studies said free ports could create as many as 86,000 jobs if successful.
Stewart Graves, is managing director of Mainstay Marine Solutions in Pembroke Dock, which is currently building two new Welsh fishery protection vessels.
The company employs 90 people, 10% of which are apprentices.
He said the Pembrokeshire economy had seen decline after the loss of refinery jobs and now worries about the impact of Brexit.
"The real problem is there aren't any sustainable jobs in terms of manufacturing in the area," he said. "That's what really needs to be rectified. Good quality employment - that's really what's missing."
He worries about tariffs on local industry but hopes a free port might act as stimulus.
"If Brexit doesn't come across on a frictionless basis then we are going to be in a situation where to attract the right quality of jobs to Pembrokeshire, we're going to require something like a free port to ensure tariff-free trade can go on," he added.
Alec Don, chief executive of the port of Milford Haven said free ports were of great interest and could have potential for different ports in Wales, each with different markets.
"Being able to create a place where every movement of a good isn't attached with bureaucracy and tariffs but also where the decision to invest - build a new fabrication hall or buy a new piece of plant - is something you can do quickly, at the pace the market wants it," he said.
Dr Andrew Potter, a transport and logistics expert at Cardiff University, said free ports would create new jobs if more people used them.
The challenge for Wales would be the competition between free ports - especially the likes of big container ports such as Liverpool, Felixstowe and Southampton - and they require good rail and road links, as well as infrastructure such as warehousing.
They would also need the volume to justify investment and expansion.
Dr Potter said it was not necessarily a magic wand for every industry, although it could help haulage and those involved in warehousing and storage.
You might also like:
The UK government said it was seeking arrangements to maximise trading opportunities for businesses.
"We will continue to engage with industry and will carefully consider the best way to deliver the greatest economic advantage to the UK," a spokesman said.
The Welsh Government said it had "an open mind" on the potential for free trading zones post Brexit, but that the matter was not devolved.
"We welcome ideas from industry on how free trading zones could work in practice in Wales and stand ready to raise this issue with the UK government further down the line," a spokesman said.