Painkiller drug prescriptions in Wales jump up by 300%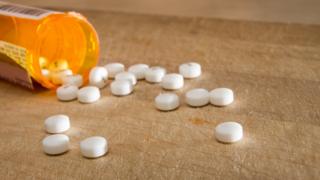 A sharp rise in strong painkiller prescriptions is partly being driven by inconsistent pain services across Wales, a leading clinician has said.
Dr Julia Lewis said the lack of alternative therapies left doctors little choice but to prescribe them, leading to dependency.
It comes as study of opioid prescribing in Wales showed strong prescriptions jumped by 300% between 2005 and 2015.
The Welsh Government said a consultation on the matter is due.
Robert Rees, 58, from Pontypridd, Rhondda Cynon Taff, said pain dictates his life, adding: "I don't like admitting it but I'm an addict."
He uses fentanyl patches, a drug that is up to 100 times stronger than morphine, along with other tablets and pain relief.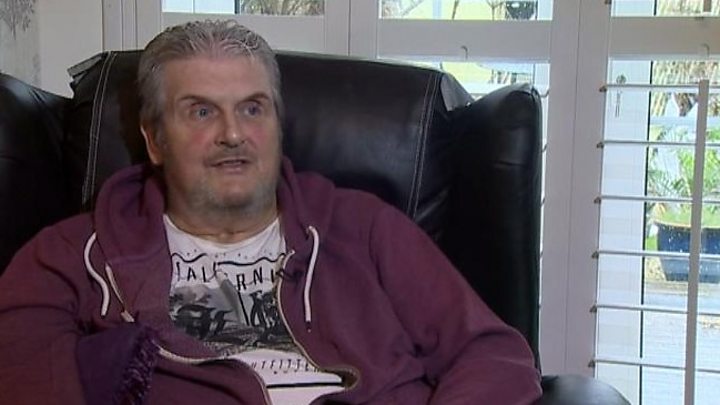 The father-of-two said he had to wait 72 hours to get his medication while in hospital recently.
"I was sweating. I felt dreadful and when they came it was like having a fix. As soon as I had that lozenge, the world was a better place, and that's frightening," he said.
Dr Lewis, a consultant addiction psychiatrist in Newport, said there could be many more people in Wales struggling but often they were too scared to access addiction services.
She said inconsistent pain management services could be contributing to dependency: "Very often doctors feel the only thing they have access to is a prescription pad and, in trying to do the best for their patient, that ends up in all they are using is a painkiller."
The first large-scale study of opioid prescribing in Wales showed prescriptions - for patients without cancer - increased by just under 50% between 2005 and 2015.
During the same period, prescriptions for the strongest opioids - such as morphine, oxycodone and fentanyl - increased by more than 320%.
Emma Davies, the author of the academic study, said she was concerned about how effective these drugs were in the long-term.
The Royal College of GPs said it would "welcome an increase in pain management services within Wales", adding that doctors "will always carefully consider any risks and benefits of any medication they prescribe".
Last month, Public Health England announced it was launching a review into the "growing problem" of prescription drug addiction.
A spokesman for the Welsh Government said, like other parts of the UK, Wales has seen an increase in the number of prescriptions for these medicines in recent years.
It said it will shortly be undertaking a formal consultation on guidance relating to persistent pain.