Consultants criticise 'catastrophic' rise in 12-hour A&E waits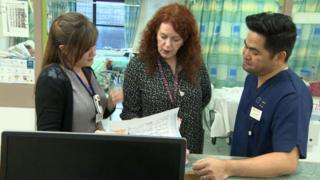 Emergency consultants say the rise in patients waiting more than 12 hours to be seen at A&E is "catastrophic" and "unacceptable and shocking".
There were 5,111 patients with the longest waits in January - 36% more than in the same month in 2017.
The number of patients attending hospital emergency departments in Wales was also the highest for a January since records began in 2006.
NHS Wales said it had been an "extremely challenging period".
The Royal College of Emergency Medicine in Wales said 12-hour waits had been shown to be detrimental to patient outcomes and patient safety was a "real concern".
Dr Robin Roop, its vice president, said: "It is not acceptable that an increasing number of patients are being left in ambulances outside the A&E department or on a trolley in a corridor, without satisfactory care.
"This is unsafe, undignified and distressing for patients and their family members."
Glan Clwyd Hospital and Wrexham Maelor have the largest number of patients waiting more than 12 hours in A&E.
The target is that no patient should wait that long.
Meanwhile, the four-hour waiting time performance fell again over the month and is the lowest since March 2016.
The average across NHS Wales saw 78% of patients seen at A&E within four hours - slightly down on the same month last year - while the target is 95%.
More than 80,000 patients went to emergency departments in January.
The figures also show:
The ambulance service faced its second busiest January ever but 69.7% of red emergency calls arrived within the eight minute target.
A&E attendance by those aged 85 and over was the second highest ever for any month on record.
More cancer patients were treated within the target time during 2017 than in any previous year.
NHS Wales chief executive Dr Andrew Goodhall praised the "exceptional commitment" of staff in an "extremely challenging period".
But flu has remained a problem.
A&E performance varies between hospitals with Wales' largest - the University Hospital of Wales in Cardiff - showing an improvement on 2017 as well as Morriston Hospital in Swansea.
But Glan Clwyd (61.4% of patients seen within four hours) and Wrexham Maelor (61.7%) had the poorest performances against the target set for major emergency departments. Both had seen a rise in patients too.
Improving patient flow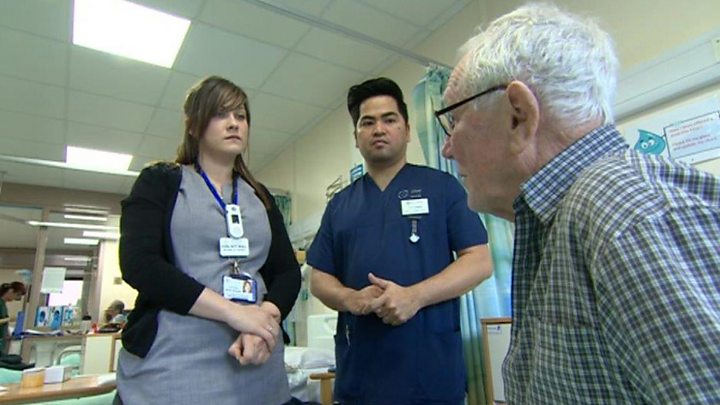 At the Royal Gwent in Newport, there has been a slight improvement on January 2017.
In common with other hospitals, it has been looking at different ways of freeing up more beds for those who need them most during the winter.
Eleven discharge coordinators now help patients get any social care or support they will need when they get home.
In a year, the initiative has reduced the length of stays on wards in Newport for elderly patients, from an average of 13 days to 8.5 days.
Conservative health spokeswoman Angela Burns AM called the figures a "new low" in the Welsh Government's failure to prepare for winter.
"Their constant inability to meet their own targets is not only frustrating but incredibly dangerous for patients - particularly older patients," she said.
Dr Roop welcomed the announcement of an additional £10m from Welsh Government to help relieve winter pressures and £10m for social services.
"The government's announcement of £100 million to transform health and social services in Wales was also welcomed but we need to ensure that patient safety is not compromised in the short or long-term," he added.
If you cannot see the NHS Tracker, click or tap here