Unemployment rate in Wales rises to 5%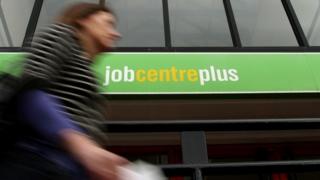 The unemployment rate in Wales has risen to 5% - higher than the UK average, according to latest figures.
There were 76,000 people out of work between October and December - up 0.9% and 14,000 more than the previous quarter and 9,000 more than a year ago.
Only Yorkshire/Humberside, West Midlands and North East England have higher rates.
The UK average was 4.4%, a quarterly rise but down on a year ago, the Office for National Statistics (ONS) said.
Unemployment in the UK increased by 46,000 between October and December to 1.47 million but was 123,000 fewer than a year earlier.
It is the first rise in two years.
The increase is 9,000 higher in Wales than the same three months in 2016 - and the rate has risen more than any other nation or region over the year.
But there are 9,000 fewer "economically inactive" people - those neither working or looking for a job - in Wales than a year ago.
Plaid Cymru's economy spokesman Adam Price said the Labour Welsh Government's failure to create enough high-skilled, well-paid job "makes a mockery" of their pledge to deliver "prosperity for all".
He said the Welsh Government needed to revise its procurement policy and "inject some ambition and imagination" into its economic plan.
Welsh Secretary Alun Cairns said there was "absolutely no room for complacency in the effort to safeguard Wales' path to prosperity".
He said the UK government was "working hard to create the right conditions" for investment and job creation in Wales.
"We must ensure that we maintain close relations with businesses on the ground in Wales and work closely with the Welsh Government to explore every growth and trade opportunity we have to create jobs now and for the future," he added.
First Minister Carwyn Jones said the rise in employment was "encouraging" but added: "Given the wider climate of economic uncertainty it is essential that we continue to do all we can to drive up employment levels and support Welsh companies to prosper and grow."
He said last week's export conference was a practical example of steps being taken to support businesses through an uncertain period.
Analysis from Sarah Dickins, BBC Wales economics correspondent
These unemployment figures do suggest there is a change in the workforce in Wales.
The unusually low comparative rates of unemployment Wales enjoyed in 2016 were hailed as a sign of economic success by both the Welsh and UK governments .
For much of that year, Wales enjoyed a lower rate of unemployment than the UK average.
But those rates have not continued and today's set of statistics not only show Wales' unemployment rate is higher than the UK average but that the gap is also widening.