North Wales Police record 50 livestock attack dogs shot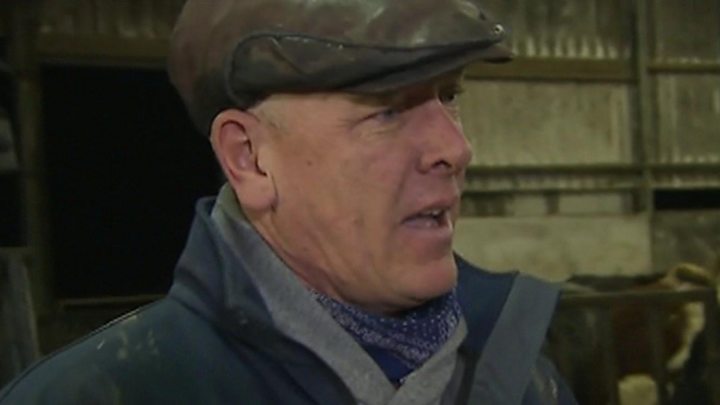 More than 50 dogs have been shot for attacking livestock in north Wales in the past four years, a report has revealed.
A study by the National Police Chief's Council (NPCC) showed North Wales Police recorded 449 cases of livestock worrying and attacks between 2013-2017.
It is calling for greater powers to obtain DNA from dogs suspected of committing attacks.
The UK government's animal welfare minister will consider recommendations.
Currently, dog owners are not required to report if their dog attacks any livestock and they are not treated as recordable crimes on police systems.
As part of the NPCC report, North Wales Police led a six-month trial last year aimed at improving the recording of these attacks, which involved four other forces - Devon and Cornwall, Sussex, Hertfordshire and North Yorkshire.
The study found North Wales Police recorded 648 livestock were killed and 376 were injured between 2013-17.
It led to 52 dogs being shot - the highest number of the five forces. The second highest was North Yorkshire Police, which logged 16 shot dogs.
Hertfordshire Constabulary recorded just one incident.
In total, there were 1,705 cases of livestock worrying - dogs attacking or chasing animals - logged in the five force areas.
Ben Jones, who farms near Pontyclun, Rhondda Cynon Taff, said there were five attacks on his land last year.
"It's very frustrating," he told BBC Radio Wales' Good Morning Wales programme.
"You're finding sheep that have either had their throats ripped out or horrendous injuries on legs. We've had sheep that have been chased into ditches, have broken their legs in the ditches and all sorts of things."
"You get there, they've been attacked on their face, on their jaws - bits missing. It's really not a nice thing to come across at all," he added.
Rob Taylor, who heads North Wales Police's rural crime team, said the true number of attacks could be much higher.
"Unless the owner of the dog admits it or the dog is seen attacking livestock, it's very difficult to get a conviction," he said.
"The problem has been the farming community and the public have not had the confidence to report it."
He emphasised these attacks could not only have a "traumatic" affect on farmers but could impact on their livelihood.
Dyfed-Powys Police has spoken out in support of the report, saying it would "benefit both the victims of these offences and the officers investigating them".
Ch Con David Jones, NPCC lead for wildlife and rural crime, said: "We need the powers to tackle this problem effectively and an overhaul of the outdated and sometimes ineffective rules surrounding livestock worrying."
Lord Gardiner, minister for animal welfare, said: "The report makes a number of recommendations and proposals for improvements to the legislation which I will be looking at closely."