North Wales suicide prevention action plan launched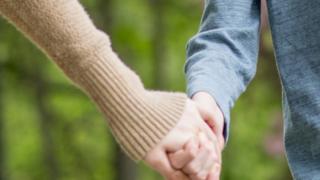 A new plan aimed at preventing suicide and self-harm is set to be launched across north Wales.
The three-year-strategy will target priority groups including middle-aged men and vulnerable young people.
Betsi Cadwaladr University Health Board said that for every suicide, another nine people will attempt to take their own life.
A man from Wrexham, who helped put the plan together, said suicide and self-harm was "still a taboo subject".
Richard Birch, from Brymbo, has made a number of attempts to take his own life and said suicidal thoughts left him feeling "lonely and isolated".
"There's often a conviction that nobody loves or cares for you and you can doubt the genuineness of people even when they are trying to offer support," he said.
"Knowing the triggers when people are feeling desperate and making them feel wanted and needed can really help."
The strategy, being launched in St Asaph, Denbighshire, on Wednesday, has been developed by Public Health Wales, the health board, councils, North Wales Police and other groups, including the Samaritans.
It aims to improve outcomes for people experiencing a mental health crisis and provide further training for professionals who frequently come into contact with people at risk.
The action plan will also look to improve data on suicide and self-harm in the region.
Other groups it will target are older people aged over 75 with depression and a physical illness, people in mental health services and those with a history of self-harm.
Prof Robert Atenstaedt, consultant in Public Health Medicine at Betsi Cadwaladr University Health Board, highlighted that suicide can have a "significant impact" on family, friends, colleagues and the community.
Dr Gwenllian Parry, chairwoman of the North Wales Suicide and Self-Harm Prevention Group, said: "No single organisation can reduce suicide and self-harm by themselves, and it will require a dedicated long-term focus and a commitment to continue to work together."