Barry Bennell: A mother's horror at son's sexual abuse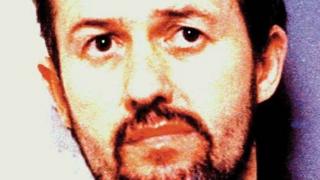 A mother from Gwynedd has described her horror on finding out her son was sexually abused and raped by former football coach Barry Bennell.
Matthew Monaghan claims he was abused when playing for Crewe Alexandra's youth team in the 1980s.
His mother Peta Pollitt, from Pwllheli, says just thinking about Bennell now makes her stomach turn.
Bennell was sentenced to 31 years on Monday after he was found guilty of 50 sexual offences against boys.
Matthew alleges Bennell raped him twice when he was staying at the home of the coach in Crewe.
"As any mother could imagine - I hate him with a vengeance," Peta Pollitt told BBC Radio Cymru's Manylu programme.
"Put it like this, he would not want to be left in a room alone with me."
Matthew was 11 years old when he joined one of Crewe Alexandra's youth teams, The Railway Juniors.
After an initial stint of travelling to Crewe for daily training sessions at weekends, he started staying over - leaving Pwllheli after school on Friday nights, travelling by train from Bangor and returning home on Sundays.
He would stay at Bennell's house, as did many other boys. His mother found it a convenient arrangement and was pleased for him as Crewe had an excellent reputation.
"I was told Crewe was a very good club and I remember being told by many people I shouldn't let him go to the big clubs first, to let him start with a small club," she said.
"I didn't want him going away from home too young but you think they are good at what they do, so you encourage them."
But months after he first started staying over, Bennell began going into Matthew's bedroom at night where he would sexually abuse him.
The 11 year old boy told no one. His mother was none the wiser.
She said: "Maybe sometimes he was a little quieter than usual, but you think he's young, at school all week and then football all weekend, everyone phoning the house constantly wanting him to play for their team.
"I just thought he was tired."
In 1989, aged 14, Matthew signed as a schoolboy with Manchester United.
He later captained Wales' under 15s, 16s and 18s teams and at 16 year old was given a professional contract with Manchester United.
He was in the class of 1993, training and playing with the infamous class of 1992 which included Ryan Giggs, David Beckham, Phil and Garry Neville and Paul Scholes.
But when he was 19 his dream came to an end.
He quit. No one at home could grasp why. Sir Alex Ferguson, the team's manager at the time, rang his mother and arranged a meeting.
Mrs Pollitt said: "He sat on one side of the table and we sat on the other. Sir Alex just said he was quite upset Matthew was planning on leaving and couldn't understand why he was going.
"He handed a cheque over and told Matthew to go home and think about it and please come back.
'I'm telling you now,' he said, 'you will be in the first team'.
"And he named some of the players he foresaw going on to play in the first team, Scholes, Beckham, Giggs - and Matthew.
"But by this time Matthew was adamant he was leaving. Everyone in Pwllheli thought he was throwing his career away, but I had always said 'if you are not happy you can come home.
"'There will always be something else you can do'."
---
Court Cases
In 1994, Bennell was jailed for four years by a Florida Court after being found guilty of sexually abusing a 13 year old boy during a football tour
In 1997, Cheshire Police interviewed Matthew Monaghan, and he told them everything Bennell had done to him
In 1998, Bennell was found guilty of sexual abuse - this time for 23 offences - against six boys aged between 9-15 years. 22 other allegations, including those made by Matthew, were kept on file
In 2015, Bennell was jailed again after admitting sexually assaulting another boy in the 1980s
---
A number of other ex-footballers, all coached by Bennell, came forward in 2016 to share their experiences.
This was when Matthew spoke openly for the first time about his abuse.
He had kept his secret for almost 30 years, which his mother found very difficult to deal with.
"His behaviour had started changing after he left Man U," she said.
"We put it down to age, stress, going out drinking and girlfriends. Abuse doesn't come to mind.
"He started drinking heavily and then, sadly, in an absolute shock to me, he started taking drugs, which I am totally against.
"It was quite a few years later when what had happened to him came out - I didn't know until he was in his 20s."
On realising the extent of his abuse, she went through a range of emotions.
"Just terrible guilt, you go all through the terrible stages thinking you are the lousiest mother on earth.
"'What could you have done to foresee? What the hell were you doing?' You go over these things over and over, mither yourself thinking about it all.
"In the beginning I don't think there was anything we could have seen.
"When boys are young and they go from Pwllheli to the big wide world they are a little naive and it's not until they start growing up they realise something is not right."
But one thing is for sure - she hates Bennell - the man who ruined her son's career.
"Just thinking about him makes me sick. I shake. I'm not the type to hold a grudge against people, I am a quiet person, but I feel I could tear him in half with my bare hands."
On 15 February, at Liverpool Crown Court, Bennell was found guilty of 43 offences related to serious sexual abuse against 11 young footballers.
He had already pleaded guilty to seven other allegations against another boy and is due to be sentenced on Monday.
Police say they will now investigate other allegations against Bennell, who has cancer.
Matthew says he is part of this investigation and is eager to face Bennell in court. But that is not enough for his mother.
She said: "Matthew will never forget and I will never forget.
"Not until the day I die. It's not enough to see him die from cancer, and it's not enough that he goes to jail for who knows how many years.
"I want Matthew to know that he is in jail for what he has done to him - and all the other boys who haven't had justice yet. That's what he, and I, need now."
Listen to Manylu on BBC Radio Cymru at 12:30 GMT on Monday, 19 February