Enterprise zones in Wales face shake-up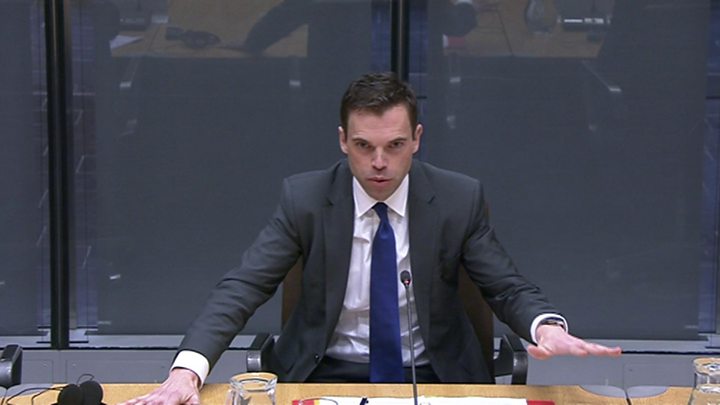 Four of the eight boards that advise the government on Wales' enterprise zones are to be wound up this summer.
Economy Secretary Ken Skates said boards overseeing the zones in Cardiff, St Athan, Deeside and Ebbw Vale will cease to exist from July 31.
Boards in Port Talbot and West Wales will continue, while those for Snowdonia and Anglesey will merge.
But the zones themselves - designed to support business growth with some tax incentives - will continue to exist.
Mr Skates also said more enterprise zones could be created, in places such as Wrexham.
"There will still be eight enterprise zones," he told AMs on the assembly's economy and infrastructure committee on Wednesday.
"But there will be less and slightly different bureaucracy, which will then lead to a saving of the public purse."
The boards, made up of figures from the private sector, provide advice to the government on activity's in the zones and were due to end in July.
Mr Skates told AMs that the Welsh Government would be "moving forward with a refined approach".
"The Port Talbot waterfront and [Milford] Haven Waterway boards will continue for a further three years," he said, claiming there was still a "huge amount to accomplish" in both zones.
The minister announced that the Snowdonia and Anglesey boards would be merging, adding: "I would like to see, as a final investment decision is reached on Wylfa Newydd, the focus to then shift to Snowdonia to ensure that some of the big projects that are coming down the line in that enterprise zone are brought to fruition.
"Both of those enterprise zones are focused on long term major projects that I think could be distinctive and game-changing for the respective areas," he said.
Mr Skates said a combined single board would ensure there were not "competing interests" that would lead to a failure to grow the respective economies.
He said the Cardiff and St Athan boards - focusing on the financial and aerospace sectors respectively - had "accomplished the objectives set out". The winding up some of the boards would be expected to make a "small saving", the minister added.
Mr Skates said there would be a "governance structure" for Ebbw Vale through the Tech Valley initiative - a plan for £100m in investment over 10 years to develop a technology park.
Adam Price - a Plaid Cymru member of the committee - noted that one of the incentives offered to firms in enterprise zones - capital allowances - was due to come to an end in 2020.
"We lobbied hard for the four enterprise zones that had them to secure them," Mr Skates said. "We will be lobbying UK government to extend them."
He said 10,000 jobs had been supported through the zones since 2012 - with £5,971 being spent per job supported.
Welsh Conservative leader Andrew RT Davies said there had been "very little to show" for the money spent, and claimed the shake-up plans seemed "haphazard at best, utterly shambolic at worst".
"The Welsh Government must now make clear its long term plans for the zones and ensure that any future funding produces tangible economic results for Wales and our local communities," he said.