Do more to tackle family child sex abuse, NSPCC says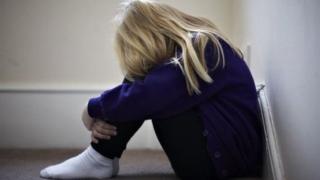 The focus on tackling child sexual exploitation means other more prevalent forms of child abuse are being forgotten, the NSPCC has said.
The charity said 90% of abuse was carried out by someone the victim knows - and a large proportion of that occurs within families.
It wants Wales' strategy to prevent child sexual exploitation expanded to include all abuse.
The Welsh Government said it was working on a new awareness campaign.
Vivienne Laing, NSPCC in Wales' policy and public affairs manager, said: "What we're concerned about is that the news and the focus of local authorities, safeguarding boards, governments, Crown Prosecution Service is very much on celebrities and on child sexual exploitation.
"Whereas we're really concerned about child sex abuse in the family and that seems to have been forgotten about. We think it's the most prevalent form of child sex abuse."
---
Beth, not her real name, from Cardiff, was sexually abused by a family member from a very young age.
She said: "The effects are everlasting. It always will be a part of your life when it's within the family.
"There are always reminders. If it's an outside member, you'd have nothing to do with them, but he is still part of the family.
"There's that level of history and you can't eradicate that. It's hard."
---
NSPCC is calling on the Welsh Government to produce a comprehensive prevention of child sex abuse strategy looking at ways to tackle all types of abuse.
Ms Laing said: "We shouldn't just be focusing on child exploitation.
"We also need to focus on other areas of sexual abuse, including abuse in the family. We think it's preventable by harnessing everyone's efforts. That's why we've got this policy call."
A Welsh Government spokesman said protecting children from all forms of abuse was a priority which was clearly reflected in the legislation and policy it had already introduced.
"This includes a Duty to Report Children at Risk, to remind those who work with children of their responsibility to take action if they have any reason to suspect a child may be at risk," the spokesman added.
Listen to Eye On Wales on BBC Radio Wales on Wednesday 14 February at 18:30 GMT