Royal Welsh: New regimental goat evades Army capture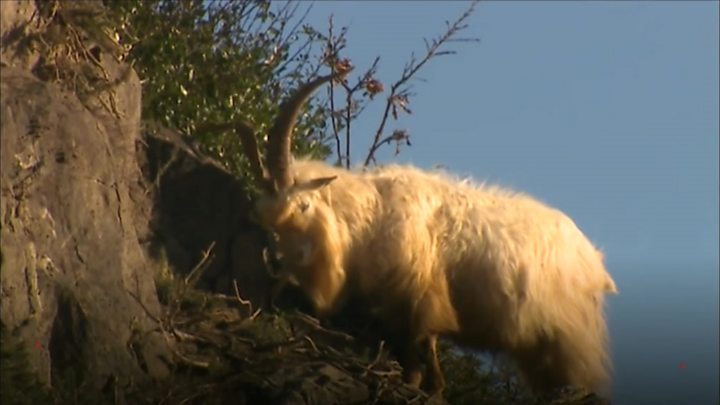 Stealthy, fleet of foot and elusive - The Royal Welsh's newest recruit is everything a battalion could want.
Unfortunately, the kid in question is Shenkin IV - a wild goat on the Great Orme in Conwy county who the Army hoped to dart and capture to be the 3rd battalion's newest mascot.
After eight fruitless hours, the search was called off on Friday afternoon and will resume near Llandudno next week.
A new goat is needed after Shenkin III died in September, aged seven.
An Army team, accompanied by an RSPCA vet, was deployed to select the successor before the new Shenkin could be taken to Maindy Barracks in Cardiff to begin his training.
But after unsuccessfully pursuing the Kashmiri from the royal herd across the hills, they had to call off the search when it began to get dark.
The regiment's Goat Major, Sgt Mark Jackson, said: "He's a cheeky looking chap - when I was calling him, he was looking directly at me. He's got a lovely quiff of hair on top of his horns - he's the one we want."
Once Shenkin IV has been caught, Sgt Jackson will be responsible for introducing him to new sights and sounds - including a trip to Baglan RFC and walks around Cardiff city centre - so he is placid and well-disciplined around people when it is time to clip clop into the spotlight.
Shenkin IV will hold the rank of fusilier and it is hoped his first public appearance will be at National Armed Forces Day in Llandudno on 30 June.
Presuming they can catch him by then.
A history of hooves
The National Army Museum said The Royal Welsh and its predecessor units have adopted goats as mascots since the 1770s
It stems from the Battle of Bunker Hill during the American War of Independence when a wild goat is said to have strayed into the battle and led the Royal Welsh Fusiliers' colour party from the field
Another story said a young Welsh soldier found a kid goat during the Crimean War and kept him as a pet. While on sentry duty one night, he tucked the goat inside his coat to keep warm and fell asleep, but was alerted to the enemy's advance when the goat bleated, giving him time to tell his fellow soldiers who were then able to repel the Russian attack
In 1884, Queen Victoria presented the regiment with a Kashmir goat from the royal herd, starting the tradition that continues to this day
All Royal Welsh goats hold a rank within the regiment