NHS at 70: Aneurin Bevan's great niece on the family business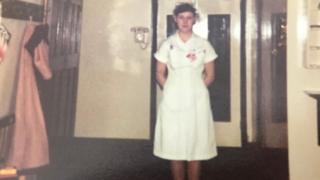 She bears the name of the father of the NHS and, like her great-uncle, the health service has been the dominant feature of her career.
Now, Nygaire Bevan is part of a commission looking at the future of the NHS and how it needs to adapt, 70 years after it was founded by Ebbw Vale MP and Tredegar native Aneurin Bevan.
Her name - pronounced nigh-ree - is based on a Maori word and had the benefit of sharing the sound of Aneurin Bevan's popular moniker - Nye.
The youngest of four children, Miss Bevan, 59, got her name after her father made an impromptu stop at The Crown pub on his way to register her birth and decided to honour his uncle.
A "couple of beers" and a conversation with friends later and any hopes her mother had to have her daughter named Katherine - as was the plan - were gone.
Born and raised in the same town as her great-uncle, her upbringing was "steeped in politics".
She recalls sitting on the stairs at home and listening to her relatives in "the parlour" (front room) discuss, debate and argue over politics "for hours into the night".
Despite the all-consuming environment she was raised in, Miss Bevan thinks this may have put her off engaging in politics from a young age.
"I think some of that fear made us avoid politics until we went into university or higher education.
"I thought 'this wasn't for me' until I realised my history and then it became more of a passion. The older I've got the more passionate I have become.
"Health has always been a part of my life - Nye was always talked about, he was very big in our family. I wasn't drawn to it because of health or illness in my family, I was drawn to it because I'm a true socialist too and I wanted to help others."
After studying at Tredegar Comprehensive, she did her nurse training in Hastings, East Sussex, but chose not to follow in the footsteps of her mother - a community nurse - and made the move into working with people with learning disabilities.
She qualified as a social worker and did a psychology degree through the Open University "because I was young, had a mortgage and couldn't afford to give up work" before completing her masters at the University of Bristol.
Her work has also seen her spend eight years as assistant director for Powys council, including a 12-month stint at the county's health board.
Now, Miss Bevan, who lives in Llanbedr, Powys, is a commissioner for the Bevan Commission, which advises the health secretary on healthcare matters in Wales.
Her family were also invited to the opening of the £53m Ysbyty Aneurin Bevan in Ebbw Vale in 2010 - and buried a capsule there including the former Ebbw Vale MP's Labour rosette and family documents.
So, 70 years on from the dawn of what would go on to be one of the jewels in the UK's crown, how does she see the future of the NHS?
She said there was evidence "from both academics and communities" that community and primary care need to be the focus, with people taking more responsibility for their own health and well-being.
The status quo of spending millions of pounds on hospitals and specialists - known as secondary care - "is just not working".
Despite a deep sense of pride towards the NHS, Miss Bevan said people can take advantage of it, and need to "treat it with a bit more respect" if it is to survive.
One fundamental change she would like to see is a non-partisan approach to governing the NHS, so policy decisions and funding are not at the whim of election cycles.
"Because it is such a political hot potato, whatever is done with it going forward it needs to be a cross-party ownership of change because otherwise it will be a football again.
"If you ask the public what they value the most it would be the National Health Service and if you asked them if they would pay more to keep it, they would probably say yes.
"However, many would say they can't afford to keep paying and a lot of people recognise there's waste in the system, particularly around prescribing and destroying medication, transport and missed appointments.
"We've seen people being drunk going into A&E, people in ambulances outside and people dying because of waiting and it's not sustainable."
But, after 70 years, Miss Bevan said there now needs to be a serious discussion about how the NHS will look in future.
Because, with ever-increasing demands and an ageing population, "it can't be all things to all people".