Brynmawr Market Hall Cinema asbestos closure 'incompetency'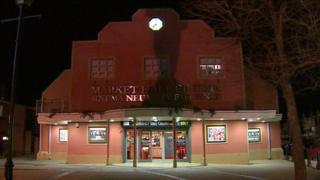 The way a council dealt with asbestos concerns at a community-run cinema has been criticised as "wilful abandonment" and "incompetency".
The Market Hall Cinema in Brynmawr was closed in November 2016 and did not re-open for six months.
The cinema and Arts Trust want an investigation into the handling of the affair.
Blaenau Gwent council has denied any wrongdoing, saying it acted "with public safety in mind".
The Arts Trust, which took over the running of the cinema from the council in 2013, claims the delay cost it more than £150,000 in lost revenue.
It disputes claims by the local authority, which issued a prohibition notice against the cinema in November 2016, that there was "potential for exposure to asbestos containing materials".
It is also understood that the council did not follow the advice of one contractor, who suggested the building could be re-opened in days if an environmental clean was carried out and the attic was sealed off.
Julian Gardner, a member of the cinema and Arts Trust, said volunteers were "astounded" when the building was closed.
"Realistically this should have been a six week process, yet areas were tested and re-tested, cleaned and re-cleaned," he said.
He questioned why the charity has not been given a long-term lease under a community asset transfer, despite running the cinema for more than four years.
Trustee Ian Cowley, who looks after the charity's finances, said the cinema was about six weeks away from closing permanently because of the delays.
Simon Thomas, Plaid AM for Mid and West Wales, said he believed the charity had been "let down" by the process.
In response, the council said the sampling exercise and remediation was too "complex" to go into without the risk of it being taken out of context.
It said its priority was public safety and that the cinema remained closed until remedial works and other safety issues were addressed.