'Gambling turned me into a zombie' says man who lost £30,000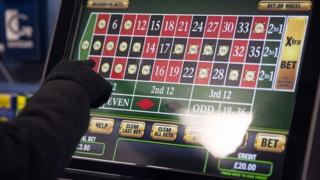 After losing more than £30,000 from gambling, a Cardiff man said he became a "zombie" and cut himself off from family and friends.
Dave took out payday loans and lost his job because of the addiction.
In his second annual report, Gambling with our Health, chief medical officer Dr Frank Atherton said gambling is an emerging public health issue which can have "devastating effects".
He said financial difficulty could lead to depression and alcohol misuse.
Dave (not his real name), who started using fixed odds betting machines at 23, said the impact of gambling had a toxic effect on his relationship with his partner and his young son.
"I must have lost £30,000 to £40,000," the father-of-one said.
"When I lost my job I was thinking it was what I deserved, I didn't think I would be able to get out of this mess, I thought there was something inherently wrong with me.
"The money, that's awful, but its that from 23 to 28 I wasn't there, you can take those years totally out of my life - for five years I was basically a zombie."
Dave, who now works with others to help them deal with addiction and is working to clear his debt, said he worries about his young son getting addicted to gambling in the future.
"If you have a smart phone you can access a casino 24 hours a day," he said.
According to Dr Atherton's report an estimated 61% of adults in Wales gambled in the last 12 months and a further 3.8% are estimated to be at risk.
Speaking to Good Morning Wales, Dr Atherton said: "When we started to look at gambling we recognised that although the percentage of the adult population affected by problem gambling is quite small - about 1% - that does represent 30,000 people.
"If you think about the family, friends and workmates that involves it starts to amount to a significant number of people.
"I'd like to see the industry contribute its fair share to its understanding of the problem of gambling and to correcting the problem, providing treatment and counselling services to people who are affected."
Stigma
He also called for greater monitoring of the health effects.
Ahead of launching his annual report at the Newport Citizens Advice Bureau on Wednesday, he said there are "big gaps" in understanding the issue and said stigma needed to be reduced.
Tim Miller, executive director of the Gambling Commission, said: "As the gambling regulator, we will continue to work with public health professionals, government and the industry to forge a sustained, world-leading approach to make gambling safer for people across Wales and the rest of Great Britain."
The Welsh Government said it would not comment ahead of a statement next week.
It has previously said there was, in general, no medical intervention for gambling.