WW1 centenary: Events to mark end of war in Wales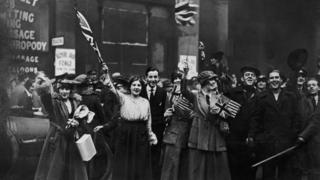 Music, drama and the history of the poppy are among events to mark the centenary of the end of World War One.
Ninety heritage groups met in Cardiff to discuss the official programme.
Sir Deian Hopkin, the first minister's expert adviser on WW1, said all the projects were providing material "for future generations to produce a legacy - an educational legacy".
A national service of remembrance in Cardiff on 11 November will mark 100 years since the armistice was signed.
The programme of events remembering significant milestones in 1918, organised by Cymru'n Cofio, Wales Remembers, has already begun by marking prime minister David Lloyd George's role in the founding of the RAF.
Other highlights include:
Historian Sir Deian told the First World War Partnership Day event at the Pierhead building in Cardiff Bay that there was still legacy work to be done, including capturing the work done across Wales digitally.
"Ensuring that this material is made available to generations to come will be a priority," he said.
Officially launching the programme, First Minister Carwyn Jones said: "It is vital that future generations understand how this terrible war affected modern Wales, and ensures that we learn from the past in safeguarding a peaceful future."