Tata Steel pension consultation: 25,000 fail to respond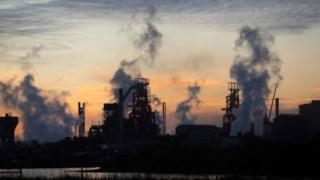 More than 25,000 British Steel pension members did not respond to a consultation over the future of their pension pots.
About 122,000 workers and former workers had to decide what to do.
It was announced last September the £15bn British Steel Pension Scheme (BSPS) would be split from the steel business owned by Tata.
This was seen as necessary to allow a potential merger with German steel producer ThyssenKrupp to go ahead.
The BSPS said just under 97,000 members completed and returned option forms with 14% of those deciding to remain in the current scheme - which is less generous than a new Tata-backed fund.
Their cash will automatically go into the Pension Protection Fund (PPF) which is the safety net where pension schemes go if they are at risk of collapse.
Members who did not respond will also see money automatically go into the PPF unless they transferred out.
About two thirds have transferred their savings into the new fund supported by Tata.
Concerns had been raised by some members that they had been given poor advice about moving money away from the scheme.