Adverts on council websites raise £34,500 to boost income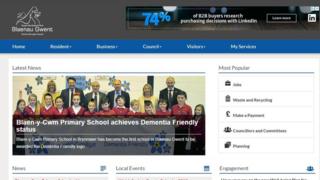 Four councils in Wales have made more than £34,500 by displaying adverts on their websites in a bid to boost income at a time when budgets are being squeezed.
Blaenau Gwent, Torfaen, Wrexham and Vale of Glamorgan councils have been displaying ads since 2014.
Most employ the Council Advertising Network to source advertising sales and they get money for every click through.
The WLGA said councils were responding to growing financial pressures.
Wrexham council, which has also used a similar system run by Google on its site since 2012, attracted the biggest revenue with £5,176 in 2014-15, £9,109 in 2016-17 and £14,479 last year.
Blaenau Gwent has made £1,500 since 2014, Torfaen council has attracted £2,321 in the past two years, while Vale of Glamorgan council made just under £2,000 last year.
In total, the councils have generated £34,585.
All adverts are approved by the councils before they run on their websites and some, such as Torfaen, also have space available for local businesses.
Banned subjects include gambling, cosmetic procedures, alcohol, drugs and supplements, as well as ones promoting bingo and lottery sites.
Political and religious advertising, ringtones, downloads and weight loss product campaigns are also prohibited.
A spokesman for Torfaen council said it began hosting website adverts as a way to "raise additional funds at a time when resources are reducing and demand for services is increasing".
"Most people are aware we have advertising on things like roundabouts and council vehicles and sponsorship for events, so advertising on the website is simply another way in which we can offer opportunities for businesses to promote themselves to our residents," he added.
A Welsh Local Government Association spokesman said: "In response to the growing financial pressures, local authorities have been working to identify income generation opportunities which could boost their revenue and minimise the burden on council taxpayers.
"Advertising revenue is one work stream amongst a range of others which some councils have decided to explore and develop further. Councils will decide locally, in line with their own particular individual circumstances and priorities, on the most appropriate ways to generate income in their areas."
The spokesman added the promotion of adverts on council websites should not be seen as an official endorsement or recommendation of products or services.