Welsh university staff to strike for 14 days over pensions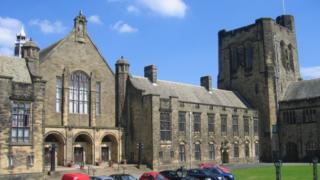 Staff at four Welsh universities are to launch 14 days of strike action in a row over pensions.
The University and College Union (UCU) said the walkouts start on 22 February and will be spread over four weeks.
Aberystwyth, Bangor and Cardiff universities, along with the University of Wales will be hit by the action, as will 57 other places around the UK.
Employers' representative Universities UK (UUK) said the changes to its pension scheme were necessary.
Staff are angry at plans to change the Universities Superannuation Scheme (USS from a defined benefit scheme, where they would have a guaranteed income in retirement - to a defined contribution scheme, where their pensions would be subject to changes in the investment markets.
It is claimed the changes could cost an average lecturer £200,000 over the course of their retirement.
UCU said talks with UUK ended without agreement last week and UUK's plans to transform the scheme were forced through.
"Strike action on this scale has not been seen before on UK campuses, but universities need to know the full scale of the disruption they will be hit with if they refuse to sort this mess out," said UCU general secretary Sally Hunt.
UCU members at Swansea University are also being balloted to see if they will take action.
A spokesman for UUK said: "Changes to USS pensions have been agreed by the joint negotiating committee.
"That decision is a necessary step, made in the best interests of university staff, to put USS on a sustainable footing for the long-term.
"The scheme will continue to offer attractive pensions through market-leading defined contribution benefits."
---
Strike dates
Week one: 22-23 February
Week two: 26-28 February
Week three: 5-8 March
Week four: 12-16 March