BBC launches new Welsh language Radio Cymru 2 station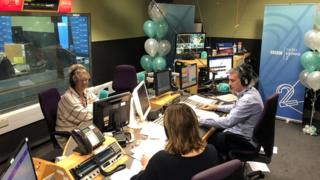 A second Welsh language radio channel has been launched by BBC Cymru Wales.
Radio Cymru 2 began broadcasting at 06:30 GMT on Monday with Dafydd Du and Caryl Parry Jones hosting the first show on the new station.
It will offer a mix of music and entertainment, while the existing Radio Cymru station will maintain its morning news service.
Station editor Betsan Powys said it was a "historic" moment for Radio Cymru.
She added it "delivers real choice" for Welsh language listeners as Radio Cymru has been their only option since its establishment in 1977.
Ms Powys said the Sioe Frecwast daily breakfast programme will provide families with an alternative.
Dafydd and Caryl will host the 06:30 to 08:30 breakfast shows between Monday and Thursday, while Radio 1 DJ Huw Stephens will be on air on Friday mornings.
Lisa Angharad will host Saturday's breakfast show between 07:00 and 09:00 while Lisa Gwilym will host the 08:00 to 10:00 Sunday show.
Tony Hall, director general of the BBC said: "I'm delighted that our new Charter has enabled us to strengthen our services for Welsh language audiences, and to offer our radio listeners real choice in Welsh for the very first time."
The move follows a trial broadcast of a second Welsh language station, Radio Cymru Mwy in 2017 to celebrate its 40th anniversary.