National Theatre Wales shuns awards amid diversity row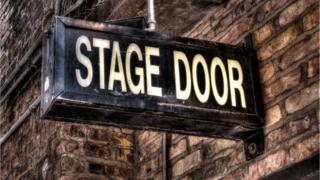 National Theatre Wales has pulled out of an awards ceremony due to a diversity row, BBC Wales understands.
Theatre actors and producers signed an open letter criticising the lack of diversity in the shortlist for this year's Wales Theatre Awards.
BBC Wales understands the national arts body will no longer attend the ceremony in Newport on Saturday.
Wales Theatre Awards had said the shortlist was decided by a large number of reviewers.
The open letter criticising the shortlist was signed by more than 40 professionals from within the live performance industry ahead of the ceremony on Saturday night.
It also hit out as productions among the shortlist featured "white actors playing non-white roles".
The letter read: "It is our firm belief that in 2018, a convenient or ignorant casting practice is no longer acceptable and it should certainly not be rewarded with accolades.
"Globally in our industry there is finally a significant appetite for change on this and other structural inequalities. We in Wales do not want to be left behind."
Music Theatre Wales' opera, The Golden Dragon, which has been shortlisted in three categories, admitted "errors of judgement" last year for casting non-Asian singers as Chinese characters.
A statement from Wales Theatre Awards had said the nominations were "decided by a large group of reviewers whose expertise encompasses a broad range of performance genres in Wales and beyond".
It went on to say it was a "matter for individual reviewers to decide how and why they make their decisions and to make any comments concerning their decisions".