Wales Theatre Awards nominations prompt diversity row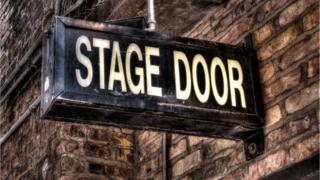 Theatre actors and producers have signed an open letter criticising Wales Theatre Awards nominations, claiming they do not represent diversity within the industry.
They have also hit out as productions among the shortlist featured "white actors playing non-white roles".
Wales Theatre Awards said more than 40 reviewers made 600 nominations from work from 130 shows and 222 artists.
It said nominations were up to the reviewers to decide for themselves.
The open letter has been signed by more than 40 professionals from within the live performance industry.
It said: "It is our firm belief that in 2018, a convenient or ignorant casting practice is no longer acceptable and it should certainly not be rewarded with accolades.
"Globally in our industry there is finally a significant appetite for change on this and other structural inequalities. We in Wales do not want to be left behind."
Music Theatre Wales' opera, The Golden Dragon, which has been shortlisted in three categories, admitted "errors of judgement" last year for casting non-Asian singers as Chinese characters.
In October it said it "shares the concern about the lack of diversity" in the sector and was "actively involved in attempts to increase diversity".
'Dropped out'
Pembrokeshire's Torch Theatre Company's production of One Flew Over the Cuckoo's Nest, which has been nominated for best ensemble, featured a white actor in the role of a character known as the 'chief', a 6ft 5in (1.95m) man who had a white mother and an American Indian father, according to the company.
It said it "fully supports and implements an integrated casting policy" and had tried to find a non white actor registered in a leading casting directory who was suitable for the role.
Although an American Indian actor based overseas had agreed to play the character, he "dropped out very late on".
Signatories told BBC Wales they had signed the letter as more needed to be done to reflect Wales' cultural diversity within the industry.
Others called for more transparency over the nomination selection process.
A statement from Wales Theatre Awards said the nominations were "decided by a large group of reviewers whose expertise encompasses a broad range of performance genres in Wales and beyond".
'Difficult discussions'
It went on to say it was a "matter for individual reviewers to decide how and why they make their decisions and to make any comments concerning their decisions".
The awards are due to be be announced in Newport on Saturday.
Theatre producer Shane Nickels, who signed the letter, said: "We have got to embrace diversity as a part of our creative culture and not see it as a barrier to overcome.
"We are not attracting talent from diverse backgrounds.
"Making theatre is difficult. It comes with a hell of a lot of challenges but we just have to get better at it and we get better by talking about it and not shying away from difficult discussions," said Mr Nickels, a lecturer at University of Wales Trinity Saint David.
Actor Connor Allen, from Newport, said the only thing "separating actors of colour from anyone else was opportunity".
He was echoing the sentiments of actress Viola Davis when she accepted an Emmy Award in 2015
Mr Allen added: "If the opportunity is there in casting rooms then us as black and mixed race actors are given that opportunity to showcase our talents."