Momentum builds in small businesses to curb plastic use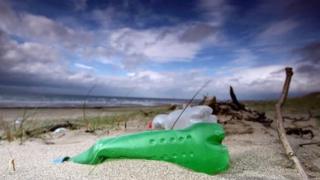 Shops and cafes across Wales are stepping up efforts to reduce plastic waste, with some finding it can even boost business.
Retailers reported a shift in attitudes, with consumers making a conscious decision to reduce their plastic footprint.
"Yes, it's good for business," greengrocer Joel Preece said.
"We sold a lot more vegetable boxes after a Facebook post on the amount of plastic in supermarkets."
High-profile campaigns and the BBC's Blue Planet II series have led to a surge in public awareness of the damage caused by single-use plastics.
Strawberry Fields, the independent greengrocer in Cowbridge, Vale of Glamorgan, owned by Mr Preece, sells almost all of its produce loose.
"People notice how much [plastic waste] comes from veg and fruit," he said.
He pointed out wrapping products such as swede and cauliflower in plastic was "literally pointless" and added wholesalers could provide smaller fruits in cardboard, rather than plastic punnets.
The growing environmental concern has also been good news for Woodman's Dairy, in Rumney, Cardiff, which said it had been "inundated" with delivery calls as people choose glass over plastic bottles.
Meanwhile Port Talbot florist Laura Bowyer Sansom saw a boost in customer interest after replacing the cellophane usually used to wrap bouquets with brown paper.
"People quite like the natural look," she said, adding that she now has no black bag wastage from the shop at all.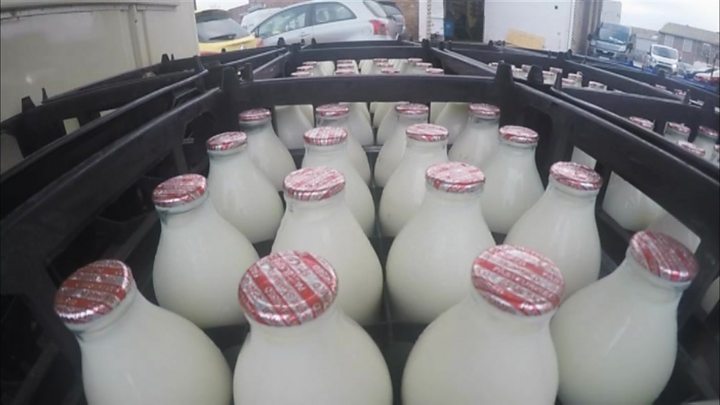 Wales currently boasts the highest recycling rates in the UK and the carrier bag charge has been a huge success.
While efforts by small businesses to tackle the problem of plastic waste can go a long way, campaigners are calling on the Welsh Government to do more.
Around 725,000 plastic bottles a day are used in Wales and it is estimated that only 50% of these are currently recycled, according to Recycle for Wales. The remaining bottles end up as either litter or landfill.
The Marine Conservation Society (MCS) said there was widespread support for a bottle deposit system in Wales and wants the government to push ahead with it.
Under such a scheme, consumers pay more when they purchase a single use drinks bottle but they get the "deposit" back when they return the empty container.
A spokesman for the Welsh Government said it had already launched a study to examine the potential of deposit return schemes.
Gill Bell, head of conservation Wales, said the Welsh Government should also be striving to promote the use of public water fountains to cut waste.
Shops, cafes and businesses will offer free water refill points in every major city and town in England by 2021 and Welsh Water is investigating whether a similar scheme could be rolled out across Wales.
Welsh Water said it had been increasing the number of events it attends to provide free water and refill stations.
It provides water refill stations to the Hay Festival, the Cardiff Food Festival, National Eisteddfod and Royal Welsh Show.
A spokesman said the company was working to promote tap water and discussing what practical things it could do to make refilling using tap water the norm.
In Cardiff, the council is investigating the possible reintroduction of water fountains in parts of the city.
Meanwhile, small businesses are continuing to make changes they hope will help reduce the harmful effects of plastic.
After researching biodegradable cups and takeaway boxes with his daughter, Stephen Herbert said he received significant support from customers at his Swansea cafe.
"It's 4p extra for a takeaway cup," he said, adding that was a cost his business Crepe Vine could absorb fairly easily.
Biodegradable takeaway boxes cost the business 20p extra each but Mr Herbert said they had seen an increase in customer loyalty in return.
"We had no idea of the damage we were doing," he added.