National Museum Wales and government need 'clean slate'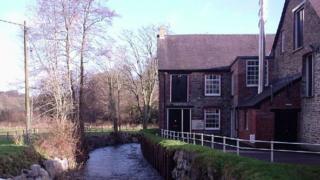 The "broken" relationship between the Welsh Government and National Museum Wales needs a "clean slate", the culture minister has said.
Lord Dafydd Elis-Thomas said he wanted a fresh start, adding: "I am very keen on moving on".
In September, the Thurley Review found the relationship had broken down and the museum was too dependent on a £20m government grant.
It followed a long-running industrial dispute over pay.
There had also been a public disagreement over the government's proposals to merge some of its commercial functions with other heritage organisations.
Responding to the report, Elis-Thomas, who joined the cabinet in November, said: "I don't want to reopen events which happened before I took responsibility for culture.
"I am very keen on moving on and ensuring that we have a very positive relationship between Welsh government, myself as the minister, officials and the institutions of the National Museum of Wales.
"And we need to ensure that for the future we don't have the kind of breakdown in relationships which Thurley sets out very clearly.
"I have worked as hard as I can since I have been in post to ensure that everything is now positive and forward-looking."
The review was conducted by former English Heritage chief executive Dr Simon Thurley, who visited the museum's sites around Wales and conducted interviews with staff, government officials and others with an interest in the sector.
Dr Thurley identified parts of the museum's offer which were dated, or failed to place Wales's achievements in the context of events such as the industrial revolution. He also argued for greater collaboration with other heritage organisations, especially at the National Roman Legion Museum in Caerleon, Newport and the National Slate Museum in Llanberis, Gwynedd.
He also found weaknesses in the museum's ability to attract income from sources other than its government grant, and recommended it appoints a commercial director to attract new investment and establish a membership scheme.
The report was welcomed by National Museum Wales director general David Anderson, who said he was already acting on its recommendations.
He said: "We welcome the recommendation that there should be a commercial director on the senior management team and we will implement that as quickly as we can.
"Although we think we are now doing very well on income generation, we think we can still go much further. Our ambition is to be the most successful museum outside London in generating income, and I think that's an achievable target."
Mr Anderson said the government grant would continue to be its main source of income, but argued the museum provided good value for money.
He said: "We recognise that it is tough for every government, but we think that investment in culture really pays back many times. We get just over £20m from the Welsh government in grant-in-aid each year. The 'gross value added' that we give back to the Welsh economy is £83m.
"So it actually earns money for Wales when government invest in their national museums."