'Care home residents failed by Welsh Government inaction'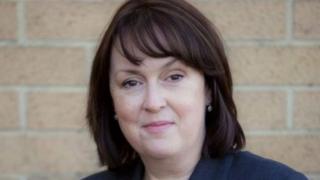 Care home residents are being failed due to a lack of Welsh Government action, it has been claimed.
Older People's Commissioner for Wales Sarah Rochira said it had not fulfilled promises made in 2014 to improve residents' quality of life.
The overuse of antipsychotic medication and a failure to prevent falls are among the 15 concerns she has raised.
Welsh Government said it was changing the way social care is delivered and was continuing to develop guidance.
Ms Rochira's new report, A Place to Call Home: Impact & Analysis, is also critical of health boards and local authorities.
She said progress made in the 15 areas identified in her 2014 report - A Place to Call Home? - was insufficient.
"I have no assurance that issues such as continence care, access to rehabilitation support, the prevention of falls and the use of anti-psychotic medication are routinely being managed in line with good practice to ensure the outcomes that older people have a right to," she said.
Her recommendations include:
Providing specialist continence support for all care homes
Giving access to specialist services after a resident has a period of ill health
Ensuring staff understand and are able to minimise risks linked with falls
Basic dementia training for all staff
Encouraging the use of befriending schemes
Publishing guidelines annually about the use of anti-psychotics in homes
Developing a system of health and social care inspection
Producing an annual report on the quality of clinical care
Ms Rochira said health boards and local authorities had made some progress, but there needed to be a faster pace of change.
"I am very disappointed, however, that the Welsh Government has failed to show sufficient leadership and take sufficient action in a number of key areas... where a national approach is needed to drive meaningful cultural change, ensure greater accountability and promote the more effective use of evidence-based good practice," she said.
The commissioner said she had provided feedback to all public bodies and now expected further action to improve life for older people.
She said there must be a renewed focus from the Welsh Government, health boards and councils to deliver the commitments they made in response to her 2014 review.
"A failure to do so will mean that our care home system is unable to meet the changing care and support needs of older people and, more importantly, will mean that too many older people living in care homes continue to have an unacceptable quality of life," she added.
The Welsh Government acknowledged there was still much work to do, but said since the 2014 report, it had legislated for major changes to the way social care is delivered and was continuing to develop guidance and regulations to address the issues raised.
A spokesman said: "A new organisation, Social Care Wales, has also been created with the aim of making sure people in Wales can call on a high-quality social care workforce that provides services to fully meet their needs.
"Alongside this, Care Inspectorate Wales [formerly CSSIW] have introduced a new, rights focused inspection regime for local authorities."
Minister for Social Care Huw Irranca-Davies told BBC Radio Wales' Good Morning Wales programme progress had been made.
He said: "[The report] does acknowledge... the great strides that have been taken already at a national level and down to local and frontline services, but it also quite rightly holds our toes to the fire and says we need to do more.
"I'm willing to give that commitment and we've been doing that over the past three years since her original report and we will keep on doing it at pace."
The Welsh Local Government Association said the quality of life and care of older people in care homes was a priority for councils but said funding cuts had had an impact.
"While local government is committed to the constant improvement of the social care services it provides, it must be acknowledged that it is trying to do so against a growing tide of severe financial constraint and growing public demand and expectation," a spokesman added.