Wales' gin producers report bumper Christmas sales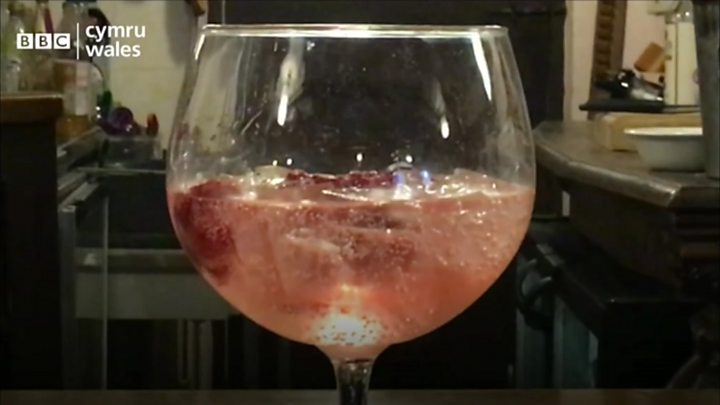 Gin producers in Wales are reporting a bumper Christmas, with some tripling year-on-year sales.
Snowdonia Distillery in Tal-y-Cafn, Conwy county and Caerphilly's Eccentric Gins both said they sold three times as much gin as the previous year.
Penderyn, makers of Brecon Gin, said its gin sales had more than doubled.
Meanwhile, figures from the Wine and Spirit Trade Association (WSTA) showed the number of distilleries in Wales has jumped from six in 2014 to 17 today.
Its chief executive Miles Beale described the industry as "a Welsh success story" and the Secretary of State for Wales Alun Cairns said the Welsh spirit industry was "thriving".
In 2012 there was just one distillery in Wales - Penderyn in Rhondda Cynon Taff, but four new distilleries opened in 2017 alone.
Family business Coles in Llanddarog, Carmarthenshire, is one of the latest crop of distilleries and opened its doors last summer, producing whisky, gin, vodka, rum and fruit brandies.
Penderyn is Wales' biggest gin producer. Perhaps best known for its whisky, it was founded in 2000, employs 60 people and produces 300,000 bottles of gin a year.
Its gin is distilled in the UK and blended and bottled in Penderyn, a rural village in the Cynon Valley.
But smaller producers have sprung up over the past few years and say business is booming.
Eccentric Gins began life three years ago in Llantrisant, Rhondda Cynon Taff, but soon moved to larger premises in Caerphilly. It produces 20,000 bottles of gin a year.
Owner Rob Higgins said 80% of his customers were based in Wales, 15% were people outside of Wales with a Welsh background and 5% were "people who just want a nice gin".
He said: "Gin is very fashionable and socially acceptable now. Women can have a gin and tonic with their grandmother and it's socially acceptable for guys to have one in the rugby club.
"We had huge growth last year and were approached by a few large retailers, but we tend to focus on retailers like farm shops and delis."
Chris Marshall, who founded Snowdonia Distillery with his wife in 2015, put the surge in popularity down to improved quality.
"Gin has come a very long way in terms of quality," he said.
"If you go back 10 years it was a relatively unloved sprit by both the public and distilleries. Britain has seen more creativity come out in terms of flavour profiles so people can find something they really love."
His limited release gin is produced in small batches using botanicals foraged locally in Tal-y-Cafn, Conwy county, and water from nearby mountains.
He would like to see Welsh gin granted Protected Geographical Status (PGS): "That would be the next nice move for the industry, getting that geographical indicator to say that it was created in Wales.
"We come from an idyllic part of the world, our waters are amazing... I would be up for championing that with others."
John-James Savage-Onstwedder, managing director at Da Mhile distillery in Llandysul, Ceredigion agreed: "Every Welsh spirit should have PGS. We're currently working with Penderyn and the Welsh Government to gain PGS for Welsh whisky."
The company was founded by his father in 1992 and produces a variety of organic spirits and liqueurs. It began making gin in 2012 and last year produced 30,000 bottles.
He said sales had increased by at least 50% year on year over the past four years but he feared the spirit's popularity may have reached its limit.
"The alcohol trends never tend to last more than a decade, and with the gin trend starting in London around five years ago, I'd say we're currently near the peak.
"Clear spirits move in trends, whereas whisky is a very stable market. Smaller distillers who don't [or] aren't branching out to brown spirits might face hard times once the trend drops off."