'Difficult days' at Cardiff hospital emergency unit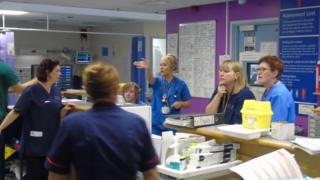 Cardiff's University Hospital of Wales is the country's biggest hospital and its emergency department is the busiest, with more than 140,000 people attending in the past year. So how does it manage to perform consistently better than Wales' other major A&Es? BBC Wales went behind the scenes to find out.
Beyond the reception area, the most seriously ill or injured patients are taken either to a resuscitation area (resus) for immediate treatment, or an assessment unit (also known as "majors") where they are given a bed to await admission, treatment or discharge.
There is also a "minors" unit where patients can be treated or patched up for ongoing care or discharged home.
During our morning, the resus unit had a mix of cardiac cases, people with chest pains, a suspected stroke and a heroin overdose. A road accident patient was also flown in by air ambulance to the hospital's heli-pad, close to the emergency entrance.
December brought in more than 11,000 patients through the doors. In recent weeks, the unit has also had frail patients suffering from flu and sickness bugs, which started on Christmas Day.
Here, both medical staff and patients give their side of the story.
Dr Graham Shortland, medical director at Cardiff and Vale Health Board
"What's different this year is an increase in our activity between the Christmas and new year period. That's compounded the additional work we see early in the new year.
"The pattern of those admissions, the number of those admissions and way they've come through our doors on particular days does add to the pressure on the service. At times, our capacity has been extremely challenged.
"I was on call on Christmas Day and I'd normally see that as a positive experience to have a quieter day at hospital, with time to talk to the staff. But it was clear it was a normal working day, something quite different, I was in a very operational role to assist staff to ensure the service ran as well as possible."
"We've seen an increase in admissions due to flu and it's clear we need to look at the data and learn from it. It means it can lead to a decrease in capacity but secondly it's about the flow. These patients need more time to be managed through the system to ensure that the risk of cross infection is kept to a minimum.
"We free up a significant number of beds prior to the Christmas and new year period and that will depend on a number of factors, such as support in getting patients home.
"We plan for that and we will need to review our activity and the acuity of patients over the period to see whether that was enough and we will learn for next year.
"Cardiff and Vale's policy would be not to use a corridor for patients. We want to free up ambulances as quickly and as appropriately as possible and I'd apologise to any members of the public who've been kept waiting in ambulances too long outside our hospitals. But I can reassure them, we at all times will clinically prioritise the needs of patients to come into the department to get the healthcare they require."
"This team can provide care quickly, efficiently and move patients on. The key thing is flow. Can we reduce demand through the front door? Can we process patients more quickly in this department? Can we move them on to the ward and ultimately move them back quickly - home or to the care of their family?
"The concept of the hospital bed is not a concept we're using as a way of going forward, it's about the alternatives and the different ways we deliver the service.
"We look at all times to balance the needs of the ill patient at the front door with the patient with a planned elective procedure. The key is that an elective procedure is done in many different ways. I would be particularly concerned that patients who have been waiting for urgent cancer treatment are considered in the round."
If you cannot see the NHS Tracker, click or tap here
Sharon O'Brien, lead nurse in the emergency department, Cardiff and Vale Health Board
"It's been particularly challenging in the emergency unit. The first week after new year there were some very difficult days. We need to keep as many bays as possible in the resuscitation area free for emergencies, for life-saving or critical treatment.
"But at times there have been large volumes of patients needing this area and our 'majors' area because they have been so sick.
"The impact of flu has had a dramatic effect on us, in the assessment area in particular. In the first week of January, we had high volumes of patients with flu and also a large number with a gastroenteritis, diarrhoea and vomiting bug. We have to segregate them so they cannot cross-infect."
"Patients have either been referred by their GP or have presented themselves at the front door or via the Welsh Ambulance Service. Maybe over the bank holiday they have been at home or not wanted to come to the emergency unit? People who've had flu and thought they could stay at home and it will go away, but they've become increasingly unwell and needed to come in.
"We work closely with our ambulance colleagues to ensure when patients are waiting longer than they should do on ambulances, we're working together to deliver high standards of care and are treating them."
"We're seeing an increased volume of patients but then Cardiff is growing as a city and the population is growing and it's inevitable we're going to see an increase.
"I don't believe this winter is any worse. Some of the initiatives predicting the challenges have been beneficial and the priority now is seeing how patients can be treated closer to home, when we know the pressure is on.
"We have 10 advanced nurse practitioners - who can, see treat and discharge patients from the front door - working in the emergency and assessment units and we've increased our paediatric workforce, which has dramatically improved our performance."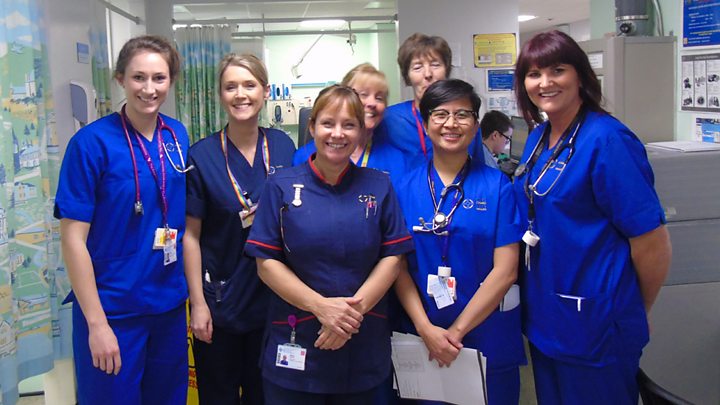 "We can't close the front door - sometimes it's a lot more challenging to open the back door, for patients to come out of the hospital, whether home or residential care. At times there are challenging days where that doesn't happen as quickly as we'd like but some of our initiatives have supported patients going home from this unit rather than going into the hospital.
"They might not need a hospital bed but they may need other services. We have a frail older person's service, where there's a nurse, an occupational therapist, a physio - it's about looking at the patient and about getting them home that day.
"We have our alcohol treatment centre which has taken the pressure off over the winter period, there have been 20 or 40 patients a night going through there who would otherwise be coming through the emergency unit.
"We also have our frequent attendees' service - sometimes patients frequently attend the emergency unit but they need other support services in the community. We've colleagues who can ensure they get the right support for the care they need but which is not an emergency service."
"Staff have shown incredible resilience and have worked incredibly hard, even on challenging days, to ensure patients are cared for to the highest standards," she added.
Ceri Newland, a patient in the assessment unit, had been waiting 12 hours after arriving in the emergency department
"I've been suffering with facial spasms and they're concerned about what the cause might be, so I need an MRI scan and the quickest way to get it done was to be admitted.
"It was absolutely heaving here last night and on my two prior visits. But the staff have been amazing dealing with often quite difficult situations and dealing with everyone with the upmost discretion and patience.
"They've got a heck of a lot on their plate and they're juggling beds and staff and doing a really good job at it."
Brenda Alexander, 89, a patient in the minor injuries unit, was being treated for a gash in the leg
"I tripped up the step on the bus getting on this morning," she said.
"My son brought me in with my husband. It's been excellent, I can't believe how quick. Speaking from my experience, it's first rate, very caring, very kind."