Brexit: Steel union wants 'tough' trade defence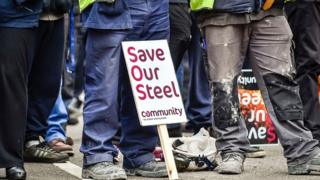 A proposed UK law could offer worse protection against cheap steel being dumped in the UK than EU tariffs, the Community union has warned.
The Customs Bill aims to put in place trading provisions for when the UK leaves the EU.
EU tariffs on Chinese steel imports have been credited with contributing to the recovery of the UK steel industry.
The UK government said an independent trade remedy body will be set up to maintain a level playing field.
Indian-owned Tata put its UK operations up for sale in March 2016. It had raised concerns about conditions in the UK making it uncompetitive to manufacture steel.
This included cheap imports from China and high costs of energy and business rates compared with other EU countries.
The EU has since placed a series of tariffs on steel goods from China and Russia.
Community union officials from around the UK including Port Talbot have written to Chancellor Philip Hammond, warning the Taxation (Cross-border Trade) Bill - also known as the Customs Bill - may not offer the same level of protection as EU tariffs.
The union represents members in Tata Steel, Liberty Steel, Celsa, British Steel, Sheffield Forgemasters, Vallourec and Outokumpu.
In the letter, Community said: "When the UK leaves the European Union we will of course need to set up our own way of preventing unfair trade or dumping of goods. We understand this Customs Bill is putting down the framework for that to happen. But as it is currently written, we fear it will not be effective."
The union is calling for a "tough" trade defence system to be in place for when the UK leaves the EU and customs union.
"Steel dumping, particularly from China, was a significant factor in the steel crisis we faced over the past few years."
It said dumping from China had subsided due to EU action but other countries such as Turkey or Iran had stepped in.
"We've never asked for protectionism or government handouts, all we ask for is the opportunity to compete in this global marketplace on a level playing field," the union said.
The Customs Bill passed its second reading in the House of Commons on Monday. The UK government is also proposing a Trade Bill, which is going through its second reading on Tuesday.
The Department for International Trade said this would establish a new, independent UK Trade Remedies Authority to investigate cases and restore a level playing field for UK industry.
A spokesman said: "In designing this, we have examined other countries' trade remedy regimes to ensure we learn from best practice and develop a system with the capability and capacity to deliver effectively."
Tata scrapped its plan to sell their UK business and last September it was announced it planned to merge its European steel operations with German rival, ThyssenKrupp.
The deal would create Europe's second-largest steel group, after ArcelorMittal.
Several factors are credited with a recovery in the steel industry.
A turnaround plan implemented at Port Talbot has made the plant more efficient and the UK government has taken action to help with costs for high-energy users including the steel industry.
International steel prices have also been rising, while the drop in the value of the pound has made it cheaper to sell steel produced in the UK abroad.