Call to report more animal road deaths to help save others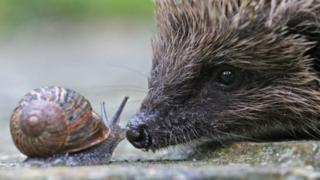 More animals could be saved if people report where they are being killed on Wales' roads, it has been claimed.
Cardiff University's research group Project Splatter said there had been 3,735 dead animal reports since 2013.
But it believes people do not think to report certain deaths.
Conservationists also argue reporting sightings could help spot areas where it is happening regularly so steps could be taken to protect animals as well as warning motorists.
Amy Schwartz, a researcher for Project Splatter, said: "People are more unlikely to report species that are more unusual, which tend to be larger animals.
"People see dead pigeons all the time but don't think to report it. But it's important because it's a proportion of a larger picture. Where some animals are hit there tends to be other species as well."
David Wembridge, mammals surveys coordinator at The People's Trust for Endangered Species, said: "No-one likes seeing dead animals on the roadside, but by counting them like this, we can collect enough data to allow us to compare population trends year on year, and identify where we need to focus our conservation efforts."
And Dominic Dyer, chief executive of The Badger Trust, said reporting accidents with animals helped conservation groups "alleviate as many threats as we possibly can" - through signage, speed bumps and animal tunnels.
According to Welsh Government figures, there were 444 dead animal reports on the motorway and trunk roads across Wales in the past two years, with close to half being badgers.
Foxes, dogs, cats, hedgehogs, owls, gulls and deer were among the others reported on roads such as the M4, A55, A465, A470 and A483.
But researchers at Project Splatter said the real figure could be much higher when taking all other roads into account.
It said its data showed 827 reports on all Welsh roads in 2016 and 747 in 2017.
What to do if you hit or see an animal on the road
Report dead animals in public areas and on roads to your council to remove them
Report alive but injured animals to the RSPCA on 0300 1234 999
You must stop and report the accident to police if you hit dogs, horses, cows/cattle, pigs, goats, sheep or donkeys
Report other deaths to conservation groups
Dr Fred Slater, from the university's school of biosciences, said the Welsh Government figure was "surprisingly small".
"To think that three dogs, a cat, one badger and one otter are all that were recorded on the A470 (the route from Cardiff and north Wales) in a year suggests that these are not systematic survey records but casual records compiled on a 'Oh I happened to see' basis," he said.
"Except for large animals, most smaller animal deaths are severely underestimated because they are rapidly removed by scavengers, who may themselves become casualties while scavenging."
The Welsh Government has been asked to comment.