Loneliness: 'I'd lost myself, lost my sense of humour'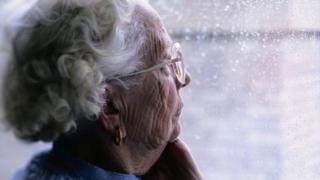 While most people will be counting down the days to Christmas with excitement, for many others it will be a harsh reminder of those who are no longer around to share it with them.
Lolita McAllister, 76, from Neath, in Neath Port Talbot, used to look forward to it but "not since my husband died".
While Val, also 76, from Newport, "can't wait for it to be over".
Here they share their stories of loneliness and explain how the kindness of strangers helps them overcome it.
Widow Val has multiple sclerosis and has limited mobility following a brain haemorrhage, which left her largely housebound.
After losing many friends, she turned to older people's helpline The Silver Line for companionship and has been speaking to her telephone friend Gill for a number of years.
"I had a lot of friends but they've all up and died on me," she said.
"My husband died in 2000 after 12 years of illness, I've got my daughter and she calls in the evenings sometimes but she's very busy as well, working.
"I cannot remember ringing The Silver Line but they are so marvellous, absolutely wonderful.
"It's somebody to talk to. Gill and I've been talking for many years now and we've become quite close friends.
"She rings me once a week, we talk about what's going on with each other and about how things used to be.
"It wouldn't be very nice without it because sometimes at 9 or 10 o'clock [at night], you get a bit down and they're always there.
"They talk to you for as long as you want to.
"I'm used to so many people being around and now they're all gone.
"You cannot be moaning to people all the time, can you? But I feel like I can with The Silver Line.
"It's just nice to know there's somebody there who has the patience to talk with you."
She added: "I can't make any plans for Christmas, I've just got to get through it the best I can.
"I presume my daughter will come but I cannot wait for Christmas to be all over.
"There are too many empty chairs now when I used to have a house full."
Lolita McAllister relies on volunteers from the Royal Voluntary Service (RVS) for support after three strokes in the past 20 years left her with limited mobility.
Without friends and family around her, loneliness began to grind her down so she turned to the charity for help, where she was paired up with Eddie.
She said: "I had lost myself, I'd lost my humour.
"But he started telling me something that happened to him in the Navy and when it came to the punch line, I could hear somebody laughing and I realised it was me.
"I thought 'I'm relaxing, I'm getting my sense of humour back'.
"Eddie comes every week and I've got something to look forward to. I have met his wife and he brings one of his dogs up now and again. It's like as if I've got a brother and a sister really.
"The urge for me to get out and get back to writing and to the things I've had to give up over the past 18 months is back again.
"I've given up giving up now. I am more or less quite on top of things.
"But without them [RVS], there's nobody else I would have had to help me.
"He's [Eddie] really helped my confidence."
She added: "I used to look forward to Christmas but not since my husband died. I can't really look forward to it. I used to love it but people can't keep coming to see you all the time.
"First of all it's a favour, after that it becomes a duty and people don't want that and I understand that."
Mrs McAllister will see Eddie and his wife over Christmas but she said it was weekly meetings that keep her going all year round.
She said: "I don't think I would be here without the Royal Voluntary Service because I was losing interest in everything.
"I would just be sat here, my personality was going, I couldn't see the fun in anything.
"I didn't want to read or write but slowly I am getting my energy back."
At the other end of services like these are people such as Linda Yeates.
She joined The Silver Line as a volunteer in 2014 when she was looking for something to keep her busy during her retirement.
She was paired with former dog trainer Harry, 81, who lives in the north of England, due to their shared love of animals, sport and classic cars.
She said: "I've been calling him for three years now and we never run out of anything to say.
"He's always got an anecdote to tell me, I know what he's talking about and can relate to what he says."
Asked what he gets out of it, Mrs Yeates, 69, who lives in Carmarthen, Carmarthenshire, said: "I hope he gets a lot of friendship, he gets something to look forward to, somebody he can depend on.
"He knows he can say anything to me, he can confide in me and knows it's very confidential.
"[Before] I think he had lost his confidence. When he first contacted us his partner had died quite a while before.
"He's got family but he didn't want to bother them and I don't think they have that sort of confiding relationship so, certainly, he's really opened up since I've been talking to him."
But what is in it for Linda?
"I felt I'd come to the end of my youthful life and I did not know what I was going to do. I didn't want to stagnate," she said.
"I feel as though I am doing something worthwhile. I feel appreciated and valued and feel part of a team and I am respected for the work I do."
Although volunteers traditionally contact their Silver Line friends once a week, they have the option to make an additional call on Christmas Day, New Year's Eve and New Year's Day, to help them through the festive period.