Steel pensions: Decision deadline 'cannot be extended'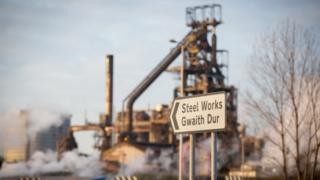 The deadline for British Steel pension members to decide on their future arrangements cannot be extended, the head of the scheme has said.
The 122,000 members have until Friday to decide whether to stay in the current scheme.
British Steel Pension Scheme (BSPS) trustee chairman Allan Johnston said delays could affect its viability.
A local MP had called for the deadline to be put back over concerns about poor financial advice.
Members have to decide whether to stay with the current scheme - which will fall into the Pension Protection Fund (PPF) - or move into a new scheme.
Workers also have the option of transferring out into a personal pension scheme.
Concerns about tight timescales and poor financial advice have led to calls from Aberavon MP Stephen Kinnock for the deadline to be extended.
However, Mr Johnston said that would not be possible, as any delay would lead to difficulties in the future which might lead to the pension scheme becoming unviable.
More than 25,000 members of the scheme have so far failed to respond with their decision, and if they do not do so by 22 December, their pension will automatically be placed in the PPF.
Mr Johnston said this raised concerns, because for more than 99% of pensioners, the new BSPS would be a better option.
He accepted that the trustees had failed to anticipate the large numbers of steelworkers who had decided to transfer out of the pension scheme, and the consequent demand this had placed on help lines.
Mr Johnston apologised for the delays and frustration this had caused.
Serious concerns have been raised about a so-called "feeding frenzy" of financial advisors who have descended on steel works across the UK. After intervention by the Financial Conduct Authority, several advice firms are no longer allowed to give pensions advice to new customers.
The BBC has learnt that the scheme trustees are putting in place a process that will allow workers who used these firms to withdraw any pending requests to transfer out of the scheme.
Meanwhile, the House of Commons Work and Pensions Committee has written to two companies - regulated financial adviser Active Wealth and unregulated introduction firm Celtic Wealth - who failed to attend last week's inquiry hearing on the British Steel Pension Scheme.
It wants a response to a series of questions by 8 January.
Frank Field MP, committee chairman, said: "Transferring out of a gold-plated final salary pension is generally a terrible idea, except in very particular circumstances."