Kittiwake numbers 'down 50% in 25 years' in Wales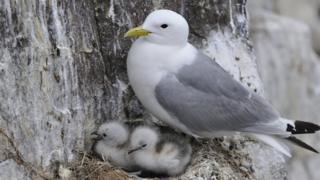 A seabird placed on an endangered species list has seen its numbers in Wales decline by 50% in 25 years, an expert has said.
The kittiwake, along with the Atlantic puffin, joined the IUCN Red List of endangered species on 12 December.
The two both nest in Wales and are part of a group of nine UK-visiting birds which were put on the global list.
Many of Wales' seabirds are found on south west coastal islands such as Skomer and Skokholm off Pembrokeshire.
Stephen Bladwell, biodiversity manager for RSPB Cymru, said it was "quite challenging" to monitor seabird numbers, but said the charity had seen a 50% drop in kittiwake numbers over the past quarter-century.
"They held on in Wales for a little bit longer so Wales seemed to be bucking the trend, but it's catching up," he said.
"Puffins are doing a little bit better in Wales."
Skomer and Skokholm are something of a sanctuary for the Atlantic Puffin - despite its global decline.
A count of puffin numbers on Skomer carried out earlier this year showed the bird's highest numbers since modern records began, with 22,227 found.
Skokholm had 6,692 puffins recorded in 2016.
Mr Bladwell said of Skomer: "It's the only colony in this part of the world that's increasing in numbers.
"The island is secure so the impact on baby seabirds like predation by rats (doesn't happen). The islands are rat-free.
"The parent birds are feeding in the Irish Sea so the bird's success is a little better as until recently the fish stocks have been able to sustain the birds. That is changing now because of large scale industrial fishing.
"Kittiwakes are not doing so well."
He said coming out of the European Union would cast the spotlight on large-scale fishing and work needed to be done at government level to help secure the birds' future.
Kelvin Jones from the British Trust for Ornithology in Wales said: "Anecdotally, we know the kittiwake has gone down in Wales due to a shortage of sandeels, ocean warming and plastics in the sea.
"Puffins are starving because they can't get sandeels.
"It's a big ecosystem but every change has a subtle effect on the rest."
He said it was possible to boost the numbers but it would need concerted effort.
"We can prevent overfishing of our fisheries, we can keep plastic out of the ocean. Everyone can play a small part," he added.