A&E attendances in Wales above one million a year mark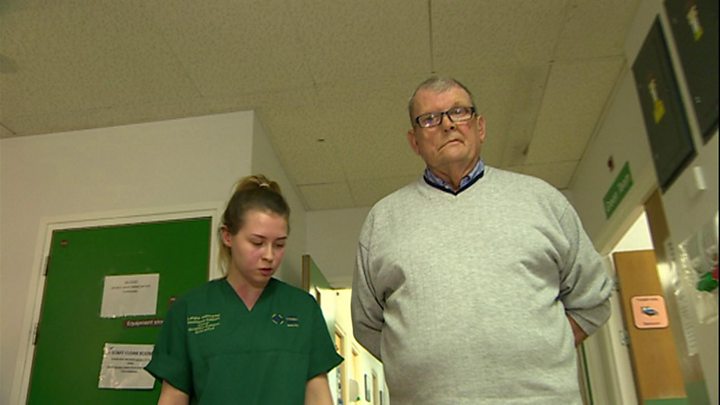 After a record year for visits to A&E departments in Wales, new analysis by the BBC suggests hospitals in Wales are struggling to keep up with demand.
There are now regularly more than one million visits a year to Welsh urgent care departments - despite a population of just more than three million people.
And the numbers waiting more than four hours has jumped by more than two thirds (67.5%) in four years.
One senior doctor has heard of examples of 80 hour waits.
The latest study has been carried out as part of the BBC's NHS tracker, which lets people see how the health service is performing in their area.
It highlights:
That the deterioration in performance in Wales is significantly worse than in Northern Ireland
But it is less dramatic than the 155% increase in the number waiting longer than four hours recorded in England
In Wales, it means an extra 70,000 a year are waiting longer than the target time to be admitted, transferred or discharged
It is set against a background of more people attending A&E departments - which has risen above the one million mark for the last two years in a row.
Dr Robin Roop, a consultant and vice president of the Royal College of Emergency Medicine for Wales, said: "Numbers are rising but patients coming to emergency departments are also having to have more types of treatments and they stay a lot longer, hence our four hour performance figures are down."
The Welsh Government's target is that no more than 5% of people attending A&E wait for more than four hours and nobody should spend longer than 12 hours.
Dr Roop said he had heard about patients waiting in south Wales as long as 80 hours and in north Wales for more than 12 hours.
"Across the entire the country, we have been having this pressure annually, not just in winter but in the summer," he said.
"While it might seem like one weekend is worse than others, that's a natural variation. Across all sites in north and south Wales, we have patients waiting for prolonged periods, week in, week out."
He said there was provision for more beds but they were also looking for more staff and not just relying on agency nurses.
"It's worrying because as a college we've been advocating expansion in staffing numbers and extra beds in the system.
"Patients are worried... but they will be given expert care to the best of the ability of the staff there, their care will not be compromised."
The Welsh Government said A&E performance - at an all Wales level - has been better each month since April compared to last year.
Yet in the past five years, the 95% target waiting time has never been met.
Morriston Hospital in Swansea has had periods where nearly half of patients arriving at A&E have been waiting longer than the four hour target.
Log-jams occur when hospital wards become full, often because of delays in discharging older patients.
Last week, it introduced the Get Up And Go scheme for elderly patients involving therapists, which looks to get them more mobile and independent while they are in hospital.
Medical care ward manager Claire Morris said: "The initiative is to get patients out of bed, on their feet and get them home quicker."
She said it was not only better for the flow of patients but better for patients themselves.
It has already succeeded in getting five elderly patients back into their own or a family home rather than having to wait for a nursing home placement.
Conservative health spokeswoman Angela Burns said the figures showed the "immense scale of the challenge" faced by A&E departments.
"This is made worse by the patchy support for elderly people whose presentations to A&E can in many cases be avoided through better care in the community achieved by closer working between health and social services," she said.
"Just a few weeks ago the health secretary said that NHS Wales is in the 'best position' to cope with winter pressures but it's now clear that his assertion was unfounded."
A Welsh Government spokesman said: "Winter is challenging period for all health services in the UK. Health boards, local authorities and the ambulance service here have all been working hard to develop integrated plans to ensure they are ready for winter."