Young, Welsh and Pretty Minted: The entrepreneurs making money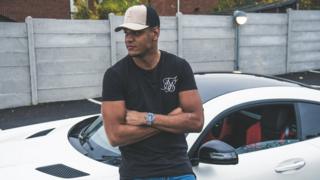 There are 12,500 millionaires in Wales - and hot on their (designer) high heels is a new generation of Welsh entrepreneurs chasing the dream. So who are these young, savvy business men and woman and how are they making their money?
Four years ago, he was stacking shelves in a supermarket. But Daniel Gonthier now earns a six-figure salary creating football videos on YouTube and playing Fifa online.
The 24-year-old, known as "The Gonth", has racked up 1.7 million subscribers to his channel - making him a superstar in YouTube terms.
"To learn how to edit a video I just went on to YouTube, 'how to add music on to a video'. You'll then get everything perfect and basically just upload it. That is what I do three to four times a week," said Daniel, from Cardiff.
Daniel makes his money without him ever having to leave his penthouse apartment - through online adverts and endorsements.
His videos include posts on the most famous saves, the funniest nutmegs and the worst referee mistakes.
"I was originally working in Iceland and it was mad because my life since then has just rocketed. I was working 9-5 and at the time, I was also coming home and screaming at my computer," he said.
"Before you knew it I was able to move out of my home, get my own apartment, buy my own car. I was able to live comfortably, able to make sure my mum is living comfortably.
"All this has come from me just sitting and making videos."
Daniel likes to splash his cash on expensive cars, watches and shoes. "I definitely do show off a lot," he said.
And his key to success - looking "decent" for his growing army of fans.
"I won't just jump in front of the camera looking groggy," he added.
He is now planning on moving to London to take his brand on to the next level.
Away from the online world, Toni Leigh Hall, also from Cardiff, has made her money by more traditional business methods.
The 29-year-old started Banter Cards at home in her bedroom.
The company offers rude, foul-mouthed greetings cards and accessories. Just two years later and it already has an annual turnover of £500,000 and growing.
"[Ideas] just come into my head at like 2am in the morning. You should read all the notes in my phone, they're horrific," she said.
"Things you hear... you just put it on a card."
The start of her business was very modest.
"I worked for an energy company and used to buy all the birthday cards and thought 'I can probably do this cheaper'... not that I'm cheap," she laughed.
"I downloaded Photoshop, Googled how to use it, didn't even have any card or anything.
"We worked in a tiny bedroom with one desk and one tiny printer, printing hundreds and hundreds of cards.
"It was a mess. We had envelopes in my bath. There were tears, we cried, we argued."
Staff are very important to Toni. Her sister and best friend now work with her, and she finds it difficult to hire employees as she needs to know they can give their all and put the customer first.
Toni has high ambitions for her company and hopes to serve one million customers within the next two years.
Erin Budina, 22, also found it tough at the start. She moved to London two years ago with £100 in her pocket and had to sleep in her car.
Now she is a "social influencer", which means brands pay her to promote their product or clothing on her Instagram page. She has 500,000 followers and earns up to £700 per photo.
Erin, from Cowbridge, Vale of Glamorgan, recently spent £10,000 on enhancing her bottom and has started her own false lashes company, So Lash.
"Obviously, I have to look good. If I don't look good I'm not going to make money," she said.
She spends hundreds of pounds each month on her hair, eyebrows, waxing and nails.
"I do feel the pressure... every picture you take you'll feel so ugly. I have those days, I'm normal,.. but then the rest of the time I think I'm stunning."
She added: "It seems easy but everyday I'm 'glammed' up is actually a lot of effort.
"If I hit 30 and I'm not with £10m then I'll be upset."
Watch Young, Welsh and Pretty Minted on BBC One Wales on Friday 2 March at 22:35 GMT or catch up on the BBC iPlayer