'Behave' call to rugby international fans in Cardiff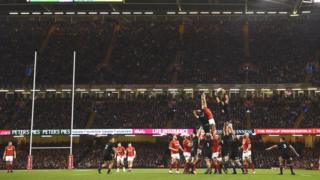 Cardiff's reputation for being a safe and pleasant place to watch rugby international matches could be damaged by continued bad behaviour from drunken fans, a police commissioner has said.
Alun Michael's comments come after fans and a policeman spoke out about issues at Saturday's Wales-New Zealand game.
The Welsh Rugby Union said it was legally bound not to serve drunken people at the Principality Stadium.
It is investigating after a disabled man was verbally abused by some fans.
"If we have people continually behaving unpleasantly, aggressively and rudely then you are going to see an increase in the calls for alcohol to be banned [at games]," Mr Michael told BBC Radio Wales' Good Morning Wales programme.
"But the plea should be let's all understand how to behave, let's stop behaving in that bad way which puts at risk the enjoyment of many thousands of other people, and, in particular, let's encourage people not to preload and not to arrive at the event having drunk too much."
Several people have spoken out about the problems they have had while trying to watch rugby matches.
Robin Hindle-Fisher was with his niece Beth Fisher at the match on Saturday when they were subjected to what she called "a tirade of foul language".
She said her uncle, who has short arms caused by thalidomide, was abused after asking the group to stop blocking people's view of Saturday's match.
Chief Insp Mark Cleland, from British Transport Police, was also critical of the "drunken violent behaviour" of some spectators.
He tweeted that "legislation has forced an improvement in football behaviour" but said the "drunken culture" of rugby and other sports had "remained largely the same".
South Wales Police and Crime Commissioner Mr Michael, said historical problems of alcohol-fuelled violence at football matches had "improved as a result of very careful work by fans, by management, by everybody involved to change the environment and the way that people behave".
He called on rugby fans to "behave as if the spotlight was on you... as if your mother was with you".
"Behave well because we have a reputation for Cardiff being a safe and pleasant place whether it's for rugby internationals or for other big events," he said.
"If that is undermined by people failing to behave responsibly and politely then we will suffer as a nation."
Sean O'Donoghue, who travelled from Hay-on-Wye for the New Zealand game, said bad language was a problem and fans could not see the game with the number of other spectators getting up and down to buy alcohol and to go to the toilet.
"I love Cardiff on match day. It's absolutely brilliant. It's pure pantomime. But this wasn't a nice experience," he said.
One WRU referee, who did not want to be named, said he and friends encountered problems at the Wales-Georgia game while in different parts of the ground.
He said when spectators challenged drunken behaviour of others they were verbally abused and threatened.
He also said he had only witnessed such problems at international games and not when watching of refereeing games around Wales.
The Welsh Rugby Union said the safety and enjoyment of supporters was of paramount importance.
"We are legally bound not to serve people who look intoxicated and we employ ex-police licensing officers on site to reinforce this," said a spokesman.
"Our stewards will remove supporters who are intoxicated and/or causing disruption to fellow supporters or behaving in a manner requiring police involvement," he added.