Mark Aizlewood denies fraud saying he had 'bigger battles'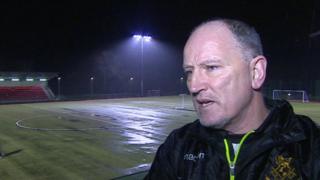 A former football player has denied a role in a £5m scam, saying his wife's battle with drugs and alcohol meant he had neither the "time or inclination".
Mark Aizlewood, 57, is accused of being involved in a fraudulent apprenticeship scheme between 2009 and 2011.
The ex-Wales defender told Southwark Crown Court that his wife Penelope, who later killed herself, was suffering from depression during the period.
Mr Aizlewood and three other men deny the charges.
They relate to a company called Luis Michael Training Ltd, with officials approaching colleges to enrol youngsters on a football-based apprenticeship scheme.
However, it is alleged the defendants claimed money from the UK Government for each person signed, despite making many names up and not giving the promised training.
Mr Aizlewood who won 39 caps for Wales and also played for Leeds United and Charlton Athletic, was a director.
He separated from his wife three years ago, before she killed herself in June 2016.
"I genuinely hope nobody ever has to go through it," Mr Aizlewood said, recalling how his daughter, who found the body, phoned him to say: "Dad, mum's dead."
Referring to entries in his personal diary, he detailed his troubled family life during the period of the alleged fraud.
He said he would frequently return home to find his wife intoxicated and often had to act as both parents for their daughters.
Mr Aizlewood said: "I'm a director of a company, but, and it's a big but, my main thought pattern was what I have to do - I have to get done quickly and get back because of the situation there."
He described the company as being of "no significance", adding: "I had bigger battles to fight."
Mr Aizlewood, from Aberdare, Rhondda Cynon Taff, and former Cardiff City and Middlesbrough player Paul Sugrue, 56, deny two counts of conspiracy to commit false representation.
Fellow director Keith Williams, 45, from Anglesey, denies the same charges.
Jack Harper, 30, from Merseyside, who began working with Luis Michael Training Ltd in December 2009 denies one charge of conspiracy to commit false representation, an additional count of fraud and one of using a false instrument.
A fourth director Christopher Martin, 53, of Catmore, West Berkshire, has admitted two charges of conspiracy to commit fraud.
A sixth man, Stephen Gooding, 53, from Bridgwater, Somerset, has also admitted one similar charge.