Male domestic abuse victim's face 'was in a right state'
By Paul Heaney
BBC News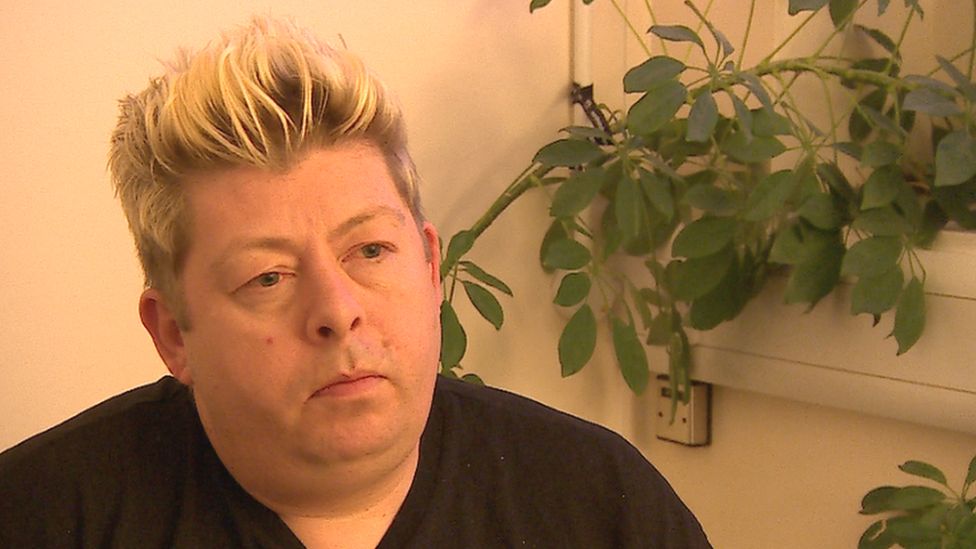 When Gordon Duncan tried to get away from his abusive partner, he was tracked down and beaten up.
With no memory of the attack he said: "The whole hallway was smashed up, he broke six ribs, he must have stamped on my face - it was a right state."
His story is one of 1,000 cases a charity hears about each year involving male victims of domestic abuse.
But the Dyn Project believes support is 30 to 40 years behind what is available to women.
The Welsh Government-funded charity was set up by victim support group Safer Wales as the first dedicated service for men in 2006.
Mr Duncan said he did not realise the situation he was in until he received help after the attack.
"He just came into my life and was there... I was quite low at the time and a bit vulnerable really," Mr Duncan said.
"He just got into my head - sometimes he was in a good mood, sometimes he was in a bad mood - I never knew which mood he would be in."
After moving, Mr Duncan said: "He turned up about four in the morning banging the door and I asked him to leave and he wouldn't.
"All I can remember is waking up in the hallway the next morning."
He added: "He'd broken me down so much… even though I knew in my head I needed to get away or I'd end up dead, but my heart was saying I didn't want to lose him at the same time."
The Dyn Project's manager Simon Borja said the issue needed more awareness to encourage more men to come forward.
"Many men come in here not recognising they're a victim of domestic abuse and I think there's wider societal issues, phrases like 'banter' and 'man up'," he said.
"A lot of men will call us, be very embarrassed, ashamed and very secretive as well. It's confidential and they can get some advice and support."
Mr Borja said while the support available can be "patchy" there are positives - he knows of three refuges in Wales compared with nine across the UK.
"Per head in Wales we're probably better covered, but that's not saying the service is the same across Wales because it's not.
"We often say we're 30 or 40 years behind women services… because 30 or 40 years ago there was probably only one [women's] refuge, now we're looking at much more, so we've got a long way to go, but it'll all be about need and more importantly what men want."
He added many men were increasingly requesting telephone support.
The charity estimates about 20% of the men who access its support are gay, bisexual or transgender, but in the past it was "difficult" to convince people there was a need for a male specific service.
"There was a scepticism, I'd say, about it, because I suppose if the figures aren't there people could think 'we think this is happening' but there's no proof it's happening."
"So I think we're in a different situation now…we've got the evidence base, so I'd say there needs to be more awareness to encourage men to come forward, because once we have that we can start building the support."