Culture funding in Wales frozen for two years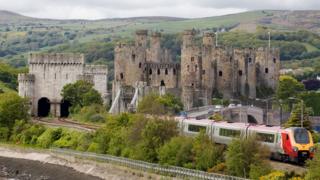 Funding will be frozen until 2020 for organisations that support museums, castles and the arts in Wales.
The decision affects organisations including National Museum Wales, the Arts Council of Wales and Cadw.
The Welsh Government said current spending levels will be maintained for the next two financial years as part of its budget plans.
Funding has been agreed as a condition of Plaid Cymru's support for the Welsh Government's 2018/19 draft budget.
CULTURE BUDGET 2018/19 and 2019/20
Arts Council of Wales - £31,227,000
Amgueddfa Cymru - National Museum Wales £21,840,000
National Library of Wales - £9,585,000
Cadw - £7,608,000
Welsh Books Council £3,649,000
Subject to the Welsh government's draft budget being approved.
While funds have been frozen, organisations are being urged to find more income from other sources.
In a memo prepared ahead of a meeting of the assembly's culture, Welsh language and communications committee the Welsh government said it had asked the Arts Council "to accelerate its work" to help the organisations it funds to "increase their self-generated income".
'Challenging'
It also stated that Cadw, the government body which cares for historic castles and monuments, will introduce "moderate" increases to admission prices next year.
A spokesperson for the Arts Council of Wales said: "The Welsh Government's budget proposals for 2018/19 and 2019/20 retain the levels of funding agreed for the current year.
"In these challenging economic times this is an important mark of support for the arts in Wales."