Pigeon by Alys Conran named Wales Book of the Year 2017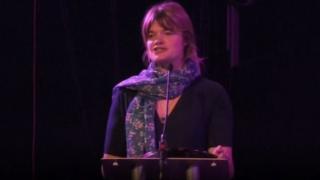 Pigeon by Alys Conran has been named Wales' Book of the Year 2017.
The author was awarded with three prizes, including the people's choice winner, for her tale of childhood memories during a ceremony in Cardiff.
Other winners included Idris Reynolds who scooped the main Welsh language prize for his collection about the late Archdruid of Wales Dic Jones.
Lleucu Siencyn, of Literature Wales, said the awards were a celebration of Wales' "very best writers".
Literature Wales organises the event, but in June it was announced that responsibility for them will be transferred to the Wales Books Council.
The 2017 Welsh language People's Choice was awarded to Guto Dafydd for his novel Ymbelydredd (Y Lolfa).
English language winners and runners-ups
The Roland Mathias Poetry Award
Winner - What Possessed Me by John Freeman
The Other City by Rhiannon Hooson
Psalmody by Maria Apichella
The Rhys Davies Trust Fiction Award
Winner - Pigeon by Alys Conran
Cove by Cynan Jones
Ritual, 1969 by Jo Mazelis
The Creative Non-Fiction Award
Winner - The Tradition by Peter Lord
Jumpin' Jack Flash by Keiron Pim
The Black Prince of Florence by Catherine Fletcher
The judges for the English prizes are author Tyler Keevil, academic Dimitra Fimi and poet Jonathan Edwards.
Welsh language winners and runners-up shortlist
Poetry Award
Winner - Bylchau by Aneirin Karadog
Chwilio am Dan by Elis Dafydd
Llinynnau by Aled Lewis Evans
Fiction Award
Winner - Y Gwreiddyn by Caryl Lewis
Ymbelydredd by Guto Dafydd
Iddew by Dyfed Edwards
Creative Non-Fiction Award
Winner - Cofio Dic, Idris Reynolds
Gwenallt by Alan Llwyd
Optimist Absoliwt by Menna Elfyn
The judges are critic Catrin Beard, author and poet Mari George and bookshop owner Eirian James.
The winners of each category received £1,000, while the overall winner received an additional £3,000.