Young entrepreneurs: The boss who set up business aged 13
As a professor warns teenagers that setting up their own businesses is not an easy alternative to going to university, two young entrepreneurs insist they have no regrets about being their own boss.
Most boys aged 13 are more concerned about playing with their friends than profit margins.
But not Callum Griffiths - when he became a teenager, he also became a businessman, selling eggs and chickens whenever he could from his home in Ynysybwl, Rhondda Cynon Taff.
While studying for his GCSEs, he was growing his venture, pretending to go to the toilet to duck out of lessons and make business calls.
His friends would be recruited at break times to help with paperwork and he would hold meetings after school, while weekends were spent selling his produce.
Now 18, he is managing director of his own poultry and nutritional pet food company, Clydach Farm Group, employing 12 people, including his mother and father, and exporting to countries including France, Romania and Spain.
"It was a struggle when I started my business as there was no real support or funding available for people under 18 back then," he said.
"But I think you just have a drive and an ambition and you find a way.
"So the business had to be something available to me. At that time I had a cockerel and a hen in my garden. With the money I made from selling their eggs, I bought more chickens. And I was able to sell more eggs.
"Then I worked my way up to my biggest investment at that time - an incubator, which cost me about £200. But that allowed me to keep on producing eggs and chickens at a greater rate."
At the same time, Mr Griffiths created his own website: "I'm not particularly technological so I had to teach myself coding as I couldn't afford to pay anyone to do it for me."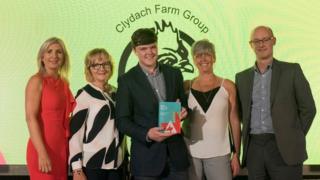 He said he was always driven to start his own business as he was not particularly academic.
"I think people who set up their own business also have a unique attitude to life and we may look at life differently. I'm not one to sit down and wait for things to happen," he said.
"I've had to sacrifice everything and I'm proud I've never had a loan. Start-ups take everything out of people. You have to be a bit crazy to do it. But that's the way you succeed."
Mr Griffiths said he found it hard to command respect from people when he started the business but that had changed, adding: "I look older now."
His mother works in sales for the business, while his father works in operations.
"Being the boss of mum and dad is a challenge," he said.
"They do listen to me but I have to treat work like work. It is difficult."
But he said with the business continuing to grow, he believes he made the right decision all those years ago.
"Having financial freedom is nice but it's about more than that for me," he added.
"Seeing your business and brand grow and making a difference is what I love."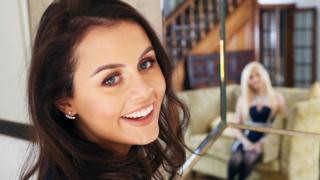 Jessica Blackler loves the fact her business gives confidence to transgender women to finally express who they really are.
The 21-year-old from Cardiff started out by giving make-overs to men - one was 75 - at a studio in her home but is now launching a make-up range aimed specifically at the transgender community.
She said her training in theatrical make-up has helped her understand their needs, such as being able to conceal beard shadow.
"Customers have said 'you have changed what it's like for us' and that makes all the challenges of setting up a business worthwhile," she said.
"About 80% of my clients are not openly transgender. They present as male on a day-to-day basis and they dress up in private."
Ms Blackler said she did not want to go to university as she was "more arty" at school. Instead, she studied at the prestigious Delamar Academy of Make-up and Hair, based at Ealing Studios in London, and did work experience in the film and fashion industries.
'It's massive'
But she said long hours and the fact she was not getting paid made her realise that she wanted to work for herself.
"I started getting requests from the transgender community - I had been doing prosthetics and character make-up which helped.
"I did a lot of research and volunteered with charities to build trust and respect with transgender people. I noticed it's a very untapped community. People don't think it's that big but it's huge, it's massive and they felt this service was not there for them."
She opened her make-over business at her home in 2015, seeing more than 200 clients discreetly in her first 18 months.
She soon realised that the make-up ranges available were not adequate for the specific needs of the transgender community and in January 2017 started to develop her Jecca make-up range.
"I haven't had any loans or grants but the best support I've had has been with a programme run by Natwest called Entrepreneurial Spark - I'm able to use office space at their building in Cardiff's Central Square. You are based there with other like-minded entrepreneurs and you get mentors and advisors," she said.
"I've also gone to Big Ideas Wales and they have business advisors funded by the Welsh Government. You go along and you have an advisor and you can call them if you need advice with things like imports. They have been great."
She said she had needed a lot of patience to set up her own business - "not everything happens at the pace you want it to" - and she said there have been challenges to overcome.
"But I have a passion for what I'm doing," she added.
"My clients have so many hurdles they have to deal with on a daily basis but I hope my make-up will help them feel as feminine as possible."