Wales has UK's widest gender pay gaps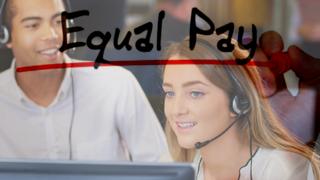 Wales has the biggest gender pay gaps in the entire UK, a study of official figures has revealed.
Blaenau Gwent tops the table for women paid less than men - while women in Gwynedd get the best hourly wages compared to their male counterparts.
Women are getting £4.53 an hour less on average in the south Wales county - while Gwynedd women are getting £2.29 an hour more than men.
Experts think more public sector jobs in some areas has boosted women's pay.
The BBC analysis comes despite statistics revealing that the pay gap across the UK is at its narrowest in 20 years.
However, campaigners have said moves towards gender pay equality are happening at a "snail's pace".
Across the UK, the pay gap in 2017 stood at 9% - or a difference of £1.32 less per hour on average for women.
The difference amounts to women effectively working unpaid from the end of November, compared to men getting paid until the end of December.
But in Blaenau Gwent the pay gap is 32% - and that means women only get paid until the first week of September, compared to male workers in the county.
Sorry, your browser cannot display this map
Map built with Carto. Can't see the map? Click here
In Gwynedd, the pay gap is the widest in the UK in favour of women - with them getting paid 23% more.
It means women are in effect being paid until the end of March the following year, compared to men.
According to the Office for National Statistics, whose figures underpin the BBC analysis, one of the main factors in areas like Gwynedd is higher levels of public sector jobs.
The county employs more than double the number of people in the public sector than in Blaenau Gwent - 16,000 in Gwynedd compared to 7,000 in the south Wales authority.
Merthyr Tydfil is another county where women earn more as they earn £1.22 an hour more than men on average - despite being just three miles from Blaenau Gwent.
"I would suggest that Merthyr Tydfil does better than Blaenau Gwent on women's pay because it has quite a lot of workplaces that employ women in professional jobs," said The Bevan Foundation think tank's director Dr Victoria Winckler.
"The Prince Charles Hospital effect, you might call it," she said.
Merthyr is also home to Welsh Government offices, courts and new retail developments.
"Whereas men do better in Blaenau Gwent because it still has some - but not much - 'traditional' men's manufacturing jobs," added Ms Winckler.
Vivienne Hayes, chief executive of the umbrella campaign body Women's Resource Centre, condemned the latest findings.
"We are here again, year after year lamenting the seemingly impervious issue of equal pay for men and women," she said.
"Even though we have had a law since 1970 outlawing the practice of sex discrimination in pay, our progress is probably not even at a snail's pace."
Chwarae Teg, a charity that campaigns for equal pay in Wales, said the Welsh Government's new Fair Work Board would be "important" to help address the issue.
"Against a back-drop of increasing in-work poverty and a social security system under pressure, we must ensure that Wales' economy is based on a foundation of decent work for all and the benefits of economic growth are felt in all regions of Wales and by all members of the community," said policy lead Natasha Davies.