Young entrepreneurs: Being own boss 'not solution' to uni debts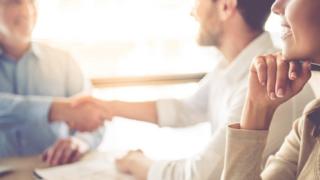 Young people should not be encouraged to set up their own businesses as a "solution" to incurring debts at university, a professor has said.
Some 70% of under 25s in Wales wanted to be their own boss in 2016, up on 42% in 2010, a Wales Omnibus survey showed.
But Brian Morgan, entrepreneurship professor at Cardiff Metropolitan University, said there was not enough financial support to help new firms.
The Welsh Government said its services helped people make informed decisions.
Prof Morgan said he worried young people thought going into business would be better than going to university because of the rising costs.
"People are bandying about this idea that starting your own business is a solution," he said.
"I'm very cautious as the last thing you want is for people to have failures. Because then you get a stigma attached to you and banks won't touch you.
"In some ways, it's better to start off with a job or going to university where you gain life skills, confidence and contacts."
Christine Bissex, head of enterprise, international and skill, at The College, Merthyr Tydfil, said a recent conference she attended heard more students were starting their own businesses instead of going to university.
"They don't want to be lumbered with that debt. It's the way things are going, they are so much more technologically minded," she added.
The Welsh Government has committed to encouraging youth entrepreneurship until 2020.
Its Big Ideas Wales service, which is funded by the EU, holds workshops and activities in schools to "inspire" 55,000 young people to explore business ideas every year.
It also offers one-to-one advice, boot camps and mentors.
Further education colleges and universities have also been given funding to drive youth entrepreneurship.
But Prof Morgan said there was not enough practical support and financial help for young business people in Wales.
"If you ask entrepreneurs what there is for them, they say there's a plethora of programmes out there but not much funding," he added.
"The Welsh Government puts all its resources into generating a huge number of start-ups then in a few years you get a number of failures."
But Kevin Green, one of Britain's biggest landlords, who goes into school to give talks as a Big Ideas Wales "role model", said he believed Wales was leading the way in the UK with the help given to young entrepreneurs.
"Big Ideas Wales is a big success story. If a young person in Wales has an idea, the signposting on where to get help is very clear in Wales, whereas it isn't so much in England," said Mr Green, from Burry Port, Carmarthenshire, who previously appeared on Channel 4's The Secret Millionaire programme.
"I think some people should go down the business route as not everyone is academic. But university has its place too for things like discipline and social intelligence."
Callum Griffiths, who started his poultry and pet food business, Clydach Farm Group, aged just 13, agreed: "I think people who set up their own business have a unique attitude to life and we may look at life differently.
"I've had to sacrifice everything. Start-ups take everything out of people. You have to be a bit crazy to do it. But that's the way you succeed."
The Welsh Government said its youth entrepreneurship work was focused on helping young people make informed decisions about business start-ups and about the challenges ahead.
"Our experienced business advisers challenge young entrepreneurs on their business model and their personal readiness to start a business in order to reduce risk of failure," a spokeswoman said.
"In addition, dedicated follow-up support is available through the Business Wales service which includes support to access funding avenues such as those managed by our new Development Bank of Wales".