Hair dye dangers warning for children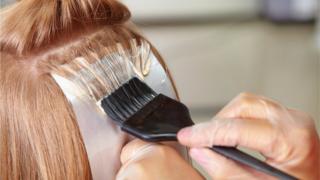 Children's lives could be at risk because some hairdressing salons are not following guidelines on hair dye products, BBC Wales has found.
No dye products should be used on under-16s, according to manufacturers and the industry's professional body.
But a 12-year-old who went undercover for BBC Wales' X-Ray was offered colouring appointments at 16 salons.
Hair dyes contain chemicals that in rare cases can cause severe, even life-threatening, allergic reactions.
Hair dye manufacturers say they are not intended for anyone under the age of 16. The European Commission insists that this warning should be put on all hair dye packaging.
The Hairdressing Federation, the profession's own body, goes further.
It tells its members that hair colour products should never be applied to anyone under the age of 16.
But when X-ray's undercover schoolgirl tested out the guidance - just one out of 17 salons acted on it, and told her she was too young.
CASE STUDY
Sammi Ford knows only too well the dangers of colouring your hair. In March, she had a severe allergic reaction to her home dye kit.
"Within half an hour my head was itching," she told X-ray.
"About an hour later I had a burning, itching feeling at the sides and then things got progressively worse. My eyes were so swollen I couldn't actually open them".
Her face became covered in sores which took weeks to heal.
But the reaction could have been avoided if she had undertaken a recommended skin patch test.
It involves placing a tiny amount of the dye product on an area of uncovered skin and leaving it for 48 hours before proceeding.
Any soreness or redness would suggest an allergic reaction is likely, and using the dye should be avoided.
Manufacturers state that a patch test must be carried out, this is for home dye kits and those used by professionals in hair salons.
The hairdressers own federation goes further saying that "allergy testing is a must for every salon".
Donna Wallbank, who owns a salon in Brynmawr, in Blaenau Gwent said she has witnessed a growing number of her own clients having reactions to the skin test.
"We're used to normally seeing perhaps one reaction a year," she said.
"But since May we've seen three. It's quite scary to think, had that service been carried out without them having the skin test, what could've happened."
'Appalled'
Shirley Davis is an industry expert and the Hair Council's representative for Wales. She said she was horrified by the results of the secret filming.
"I am absolutely appalled, they should've all said I'm sorry you're not 16, we can't do it and sent her away," she told X-Ray.
"Everyone within the industry is trying to professionalise it and we have salons that are actually contemplating colouring a young person's hair.
"If they did something with this young girl and she had an anaphylactic shock she could die - that's how serious it is.
"You have to patch test over-16 and under 16 it's a no-no."
X-ray is on BBC One Wales on Monday, 30 October at 19:30 GMT, repeated on Tuesday on BBC Two Wales at 17:30, or you can catch-up with the programme on the BBC iPlayer.