Wales workers 'endure lowest take home pay' in UK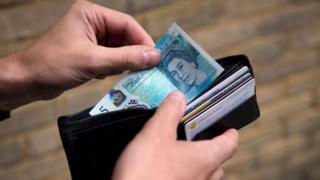 Workers in Wales "endure the lowest take home pay" in the UK, according to the Office for National Statistics.
Wages rose by 1% in the year to April 2017, but the level of inflation (2.6%) meant a real terms fall of 1.6%.
Median (middle amount) weekly earnings for full-time workers was £498.40, more than £50 less than the UK as a whole.
Plaid Cymru and the Welsh Conservatives have both criticised the Welsh Labour government, but it said it was "committed to driving up wages".
---
Analysis by BBC One Wales' new political debate programme The Hour
The Office for National Statistics (ONS) report shows real earnings are now £1,100 per year lower than in 2009.
In 2009, a year after the recession, average real earnings in Wales were £27,000.
Today's wage statistics, once adjusted for the rising cost of living, show that people are earning £25,900 per year on average.
This means, on a key economic indicator, the Welsh economy still hasn't recovered from the recession.
Welsh men have actually been the hardest hit - taking home £2,100 less a year in real terms than in 2009.
Interestingly, real earnings had actually been improving before this year. Wales had experienced two consecutive years of rising real earnings in 2015 and 2016.
But, real earnings have fallen from 2016-2017 by £416 per year or £8 per week - largely as a result of rising inflation.
---
Plaid Cymru's economy spokesman Adam Price said "austerity has failed Wales" and now was the time to invest in people and communities.
He said the figures on wages were a "clear illustration of the Welsh and UK governments' failure in its duty to the people of Wales".
"It's time to abandon the culture of cuts, it has led to nothing but economic decline," he said.
The Welsh Conservatives economy spokesman Russell George said Welsh workers "continue to endure the lowest take home pay in Britain".
'Daily struggle'
He said: "Life can be a daily struggle for people on low pay, and it can be hard to keep up with the rising cost of essentials or to scrape enough savings together to get on the housing ladder".
Mr George said the Welsh Labour government had "done little to tackle this issue with the tools they have at their disposal".
Open Britain, a cross-party group campaigning against a hard Brexit, said a rise in inflation in the wake of the Brexit vote in June last year had "caused a squeeze on living standards" and pay packets.
Stephen Doughty, leading Open Britain supporter and MP for Cardiff South and Penarth, said: "People in Wales have a right to ask whether this Brexit squeeze on wages and living standards is what they voted for in the referendum."
The Welsh Government spokesman said "a record number" of people were in work, with unemployment at "historically low levels and below the UK average".
He said through interventions such as Jobs Growth Wales, ReAct and "rapid support" for the steel industry, the Welsh Government has "consistently supported" communities across Wales through one of the worst global recessions.
"We are committed to further driving up wages through a range of economic measures that will help attract further inward investors to Wales, implement better fair working practices and tackle lower productivity through enhancing skills, leadership and innovation across Wales," he added.