Concern over rising emergency housing demand in Wales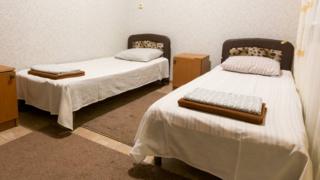 There is "increasing concern" over rising demand for temporary and emergency housing across Wales, local authorities have said.
It comes as Conwy council is set to discuss a forecasted £200,000 overspend on its emergency housing budget.
The Welsh Local Government Association (WLGA) said the national scale of the challenge was getting bigger.
The Welsh Government said it had put aside £20m extra funding to tackle the issue over the next two years.
---
Are you living in temporary or emergency accommodation? Get in touch to share your story.
---
Demand for Conwy's housing service rose by 33% between April 2015 and March this year, according to a report before councillors on Thursday.
The increase has come since the Housing Act Wales (2014) introduced new duties for councils to prevent and relieve homelessness.
Conwy exceeded its £225,000 emergency accommodation budget by £50,000 last year and is now projecting that to rise to £425,000 for 2017-18 - £200,000 extra.
The report said "increasing demand" and changes in the type of households needing help were behind the budget pressures.
The WLGA's spokesman for housing, councillor Aaron Shotton, said: "There is increasing concern, really, right across Wales.
"The latest statistics for the last 12 months show there has been a 29% increase in those people presenting themselves as being threatened with homelessness and that is a significant increase in one year alone.
"I know that local authorities right across Wales are successfully preventing homelessness but the scale of the challenge is increasing."
Mr Shotton, who is leader of Flintshire council, said the roll-out of the UK government's universal credit should be "paused" and he called for measures to ensure more affordable housing was available.
Charity Shelter Cymru said there had been an 8.5% drop in the use of temporary accommodation and 45% drop in the use of bed and breakfasts in the year after the new housing legislation took effect in April 2015.
"However, what we've seen since then is numbers of households in temporary accommodation creeping back up, which is a trend very much linked to the rising demand on homelessness services," a spokeswoman added.
It pointed to rising levels of poverty, a lack of affordable housing options, welfare reform, and lack of funding for essential services to prevent homelessness.
The latest Welsh Government figures show 9,210 households in 2016-17 were threatened with homelessness within 56 days - up from 7,128 the year before.
At the end of June 2017, there were 1,980 households in temporary accommodation, with 207 of those in bed and breakfasts, including 27 families with children.
Torfaen, Monmouthshire, Powys and Pembrokeshire councils all said they had seen increases in demand for emergency, short-term or interim accommodation - although they have not all seen their spend in this area rise.
In August, charity Crisis said homelessness in Wales could rise by a third in the next year.
And John Sparkes, chief executive of Crisis, said any increase in the use of temporary accommodation across Wales was "a cause for concern".
"This kind of accommodation is often cramped, sometimes unsuitable, and occasionally even dangerous," he said.
"People stuck in temporary accommodation are living their lives in limbo. They don't know how or when they will be able to move on to a permanent home."
The new Welsh draft budget contained an additional £10m for each of the next two financial years to tackle homelessness.
However, fears have been raised that overall funding to help vulnerable people with housing will fall, after it emerged a £125m scheme would no longer be ring-fenced.
Mr Shotton called on the Welsh Government to protect relevant funding.
The Welsh Government said it had prevented homelessness for more than 11,000 during the first two years since the introduction of the new housing act.
"However there are a growing number of people who are seeking help due to threatened or actual homelessness," a spokeswoman added.
"We have increased funding by £10m for each of the next two years.
"This is on top of an additional £2.6m this financial year for over 60 new projects focusing on rough sleeping and youth homelessness.
"We are working closely with our partners in the voluntary sector and local government to consider new measures including housing first initiatives and more support for local authorities to work with private sector and registered social landlords."