Conner Marshall: Flashbacks of murdered son's injuries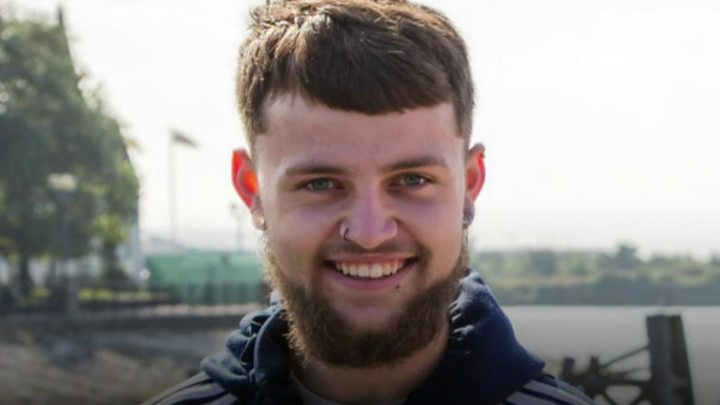 Warning: Distressing images and content
When Nadine Marshall waved her 18-year-old son Conner off as he went to stay at a caravan site with friends, she never imagined the next time she saw him he would be lying critically injured in a hospital bed after a savage beating by a stranger.
And the mental image of her son, in the hours before he died, bruised, bloodied and swollen continues to haunt her two years after the brutal attack.
On Saturday 7 March 2015, Conner left the home he shared with his family in Barry in the Vale of Glamorgan for a trip to Trecco Bay caravan park in Porthcawl, Bridgend county.
His mother recalls waving him off: "It was the usual 'have fun, stay safe'...
"He was really excited, he was buzzing, he was in a good place in his life."
He told her he would be back early the next day on Sunday 8 March to celebrate her birthday, so when there was a knock at the door just before 07:30 the next day she assumed it was Conner.
"I did say to Rich [Conner's father]: 'That's very early for Conner'... in my head I thought he hadn't been to bed yet and come straight home'."
But when she opened the door she was met by two police officers.
"Straight away my heart dropped. They asked if I was the mum of Conner... they said there'd been an incident that Conner was involved in and that he was on his way to the hospital."
The family raced to University Hospital of Wales, Cardiff in a blur. On arrival a doctor told them Conner was in resus with life threatening injuries.
After spending what seemed like hours in a side room, Nadine and her husband Richard finally got to see him.
"That image, that's the flashbacks that I get," she said.
"The noise, the smell... Conner was on the bed with a big red cradle to keep his neck and head still. He just looked horrific.
"His face was just a mass of blue bruising and blood. He had a huge big gash on the top of his forehead.
"His lips were so swollen they were stopping him breathing through his nose.
"He had tubes and pipes and it was just awful... there wasn't a piece of face that wasn't bruised or bloodied.
"He had this hole in the side of his face which we knew later was from the metal pole...
"When they pulled the blanket across you could see footprints on his torso.
"He was hypothermic and they had heaters blowing on him to try and warm him up."
As Conner's parents waited at his bedside hoping against all hope their eldest son would pull through, police were investigating what had happened.
It emerged that David Braddon, a 26-year-old man from Caerphilly, had carried out a sustained and horrifying assault on Conner that night.
High on a cocktail of alcohol and drugs, his killer had stamped on his face, kicked him in the ribs, stripped him naked and repeatedly hit him with a metal pole in an attack which caused Conner "a horrific degree of suffering" according to the judge who jailed him for life after he was found guilty of murder.
Meanwhile, as Conner's parents tried to comprehend how their beautiful son could be lying in a hospital bed with such horrific injuries, they pressed medics for information.
"I was asking repeatedly 'he's going to be ok isn't he? He's going to be ok?'..." said Nadine.
"The lead doctor said to us 'you need to understand he's not in a good place. He's very, very poorly. We're doing what we can'.
"It was like being spoken to in another language."
But there was more shocking news in store.
Connor's injuries showed he did not even get the chance to fight back: "I remember the detective saying 'if you look at his hands there's no marks... that means there was no fight'.
"It was just something else to take on."
One day after the attack, one of the doctors came to speak to the family. He explained things were looking bleak; brain scans had shown Conner was not responding.
But the Marshalls had noticed their son was twitching and were sure it was a sign he was recovering. "I asked the nurse if that was positive, if he was coming round," said Nadine.
"I felt awful because she had to tell us 'no, it's not, it's a symptom that things are getting worse'.
"The doctor explained that despite what they were doing he wasn't warming, he wasn't reacting in the way they would have hoped... the doctor was brutally honest and said it was irreversible.
"I was sitting there thinking 'this can't happen, not to me, not to my boy'."
After spending four days and four nights by his side, Nadine and Richard said their final goodbyes to their son.
Conner had been passionate about organ donation. His injuries were so severe only his liver and kidneys could be donated but went on to save the lives of three people.
The trauma of losing her son in such brutal circumstances has left Nadine with post traumatic stress disorder (PTSD), anxiety and flashbacks. She has not been able to return to work: "It's getting used to that tight belt around my tummy that gets tighter."
She said the sounds of a siren or a medical drama on TV could trigger feelings of terror: "It takes you right back to that moment. The smells, the sounds. It's horrible. It's terrifying."
And despite the agony the family have faced, Nadine believes the worst is yet to come. "I don't even think I've started real grieving... I know it hasn't got as big or as horrible as it is going to be.
"I just see it as a big hole and I'm teetering on the edge of that hole all the time.
"I know I need to go right down into the bottom of that hole and come out... I will get out but for me that is such a scary thought."
Conner's case features in the Panorama programme Out of Jail: Free to Offend Again? which is broadcast at 19:30 BST on BBC One on Wednesday 25 October.