Welsh students lack 'confidence' to apply to Oxbridge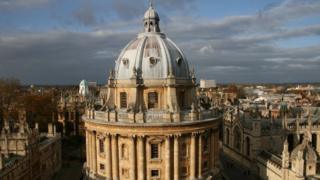 Welsh students lack the confidence to apply to Oxbridge, an access fellow at Oxford's Jesus college has said.
The acceptance rate of Welsh students at Oxbridge has increased in the last three years, but the number of applications has fallen.
Access officers have identified self-belief as an issue they have to tackle in Wales.
The Welsh Government said more needs to be done "to push our most able students".
Welsh students made up 3.3% of Oxford's intake, and 1.6% of Cambridge's, in 2016 according to Freedom of Information figures released by Tottenham MP David Lammy last week.
In 2014-16, Wales was the fourth lowest region for Oxford applications, offers and final acceptances.
Mr Lammy's figures predate the launch of the Welsh Government's Seren Network in November 2015 - an access programme of regional hubs created to address the lack of Welsh students applying to top UK universities.
It arranges talks, seminars and workshops delivered by lecturers, students and admissions experts from leading universities, subject support from local teachers and advice about university applications.
About 2,300 students have been selected to be part of one of 11 regional hubs so far, and its impact on Welsh Oxbridge applications will be quantifiable from 2018/19.
Dafydd Jones, from Rhondda Cynon Taff, who has given talks at Seren events and studied chemistry at Oxford, said: "The key problem with Welsh students is they don't have the confidence."
'I thought I wouldn't stand a chance'
He also blamed the "stereotype" of Oxbridge and media reports which presented an "underlying opinion of Oxbridge" that it is not for the working class people in Wales.
Meg Howells, a current Welsh student at Oxford, said: "I considered not applying to Oxford purely because I thought I wouldn't stand a chance."
She said there was an "Oxford bubble" and there needed to be an effort on the university's part to reach out to Welsh students through access events.
"But I would argue there is also a 'Wales bubble'," she added.
"A reluctance to have a go simply because a lot of us do not feel 'good enough' for a place which seems so alien and detached from the outside world."
The University of Oxford said it had recently announced a partnership between the Seren Network and Jesus College.
Matthew Williams, access fellow for Jesus college, said: "Our primary method of changing this narrative is by meeting as many Welsh students as possible.
'Strongly consider applying'
"I invite a lot of students to come to Oxford and meet our undergrads. They pretty quickly realise that Oxford students are just like them.
"Often Welsh students lack the confidence to apply to Oxford or Cambridge, and I do all I can to change their minds."
Twenty two students from Seren attended a week-long summer school at Jesus this summer, which the college aims to triple to 66 in 2018.
Meanwhile, Cambridge University said it was "intensifying its efforts" to increase Welsh applications.
"High-achieving students from Wales should strongly consider applying to Cambridge," a spokesman said.
"Welsh applicants have the same success rate as the Cambridge average and Welsh students thrive here as part of our global community. If you don't apply, we can't offer you a place."
The university's Magdalene College works with north Wales and Ceredigion, while Churchill College deals with the south Wales and Powys areas to improve access.
Schools liaison officers and admissions tutors from both colleges regularly visit state schools, the Seren hubs, and sixth-form colleges, and organise visits to Cambridge.
MP Chris Bryant took more than 70 students from Rhondda to his old Oxford college in September to demystify the experience.
He told the students that the "only barrier to getting here is inside your own heads".
Murrium Khan, senior access officer at Lady Margaret Hall, one of the Oxford colleges responsible for access in mid-Wales, cited several possible factors contributing to Welsh Oxford applications falling, including the press, education system and, primarily, confidence.
She runs workshops with link schools in Wales and says she often plays a word association game where students mention words they think relate to Oxbridge.
"Posh, privileged, well-connected and rich are always on the list", she said, adding the college's programme was often focussed on busting these myths.
The Welsh Government's Lifelong Learning Minister Alun Davies said: "We recognise that through working with schools and universities we need to do more to push our most able students to reach their full potential."