'One in five rivers' in Wales polluted by sewage - WWF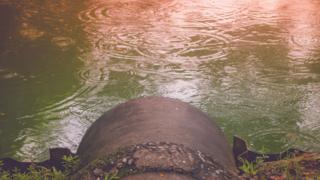 Nearly one in five rivers in Wales is polluted with sewage, affecting wildlife and human health, a new report has warned.
Analysis by a water consultancy found 17% of rivers in the area managed by Welsh Water were affected.
The data is in a report by conservation charity WWF which claims problems with sewage are likely to get worse.
WaterUK, on behalf of water companies, accused it of presenting "an inaccurate picture of what is going on".
WWF claims the total amount of raw sewage being discharged into rivers is unknown, describing that as a matter of "huge concern".
However, analysis of data provided by Natural Resources Wales and England's Environment Agency as part of the reporting they have to do to meet EU directives on water quality, suggested 40% of rivers in England and Wales were affected.
Welsh Water had the smallest proportion of watercourses polluted by sewage of England and Wales' 10 water company areas.
Severn Trent Water, which supplies parts of mid Wales as well as England's midlands, operates in an area where 61% of rivers are affected, the report suggests.
Thames Water, which supplies London and surrounding areas, had the highest proportion of rivers affected by sewage at 72%.
The report says the pollution comes from almost 18,000 sewage overflow sites operated by water companies and from treatment plant breakdowns.
Though there has been little national monitoring of how often overflows spill sewage into rivers, the charity analysed figures from 247 sites in south west Wales available on Welsh Water's website.
It found:
They spilled for an average of 217 hours over a year
9% spill for at least 730 hours a year, equivalent to flowing constantly for a whole month.
An overflow in Cardigan clocked up 6,201 hours' of spill - equivalent to constantly discharging sewage into the environment for more than 70% of the whole year
While sewer outflows are a necessary part of the water system, providing relief for times of extreme rainfall, WWF claimed the data showed they were discharging far more often than they should be, suggesting the UK was in breach of EU law.
'Muddied the waters'
A rising population, increasing urbanisation and climate change meant the situation was likely to get worse, it claimed.
Wales, however, is seeing progress, WWF conceded, with the Welsh Government planning to make sustainable drainage systems (SuDS) compulsory for new, large developments.
Welsh Water's Rainscape project will invest £80m by 2020 in a range of SuDS projects to prevent and slow down surface water entering the sewer network.
Ben Stafford, head of campaigns at WWF, said the charity wanted to see all water companies producing long-term wastewater plans and called on the UK and Welsh governments to make them a legal requirement.
"No one party can fix this problem," he said.
"Water companies clearly have a key role to play, but we also need greater action through regulation - it should not be legally acceptable to pollute our rivers or frequently discharge untreated sewage."
Water UK, which represents water companies, said WWF's report had failed to distinguish between the most serious pollution incidents and the vast majority which cause "only a limited or localised effect on water quality".
"There's a genuine debate to be had about how we as a country are going to deal with sewage and drainage issues in future in a way which protects our environment, but WWF have muddied the waters with an inaccurate picture of what is going on," said a spokesman.
Welsh Water said it took its environmental performance very seriously and had invested more than £1bn in sewage treatment and network improvements to improve bathing water quality since 2001.
"The overall situation described in WWF's report is greatly different in Wales to that in England, with the report acknowledging that Wales has the lowest percentage of rivers affected by wastewater," a spokesperson said.
"This is a testament to the significant investments we have made on behalf of our customers."